More sustainable transport starts with measuring carbon emissions and using biofuel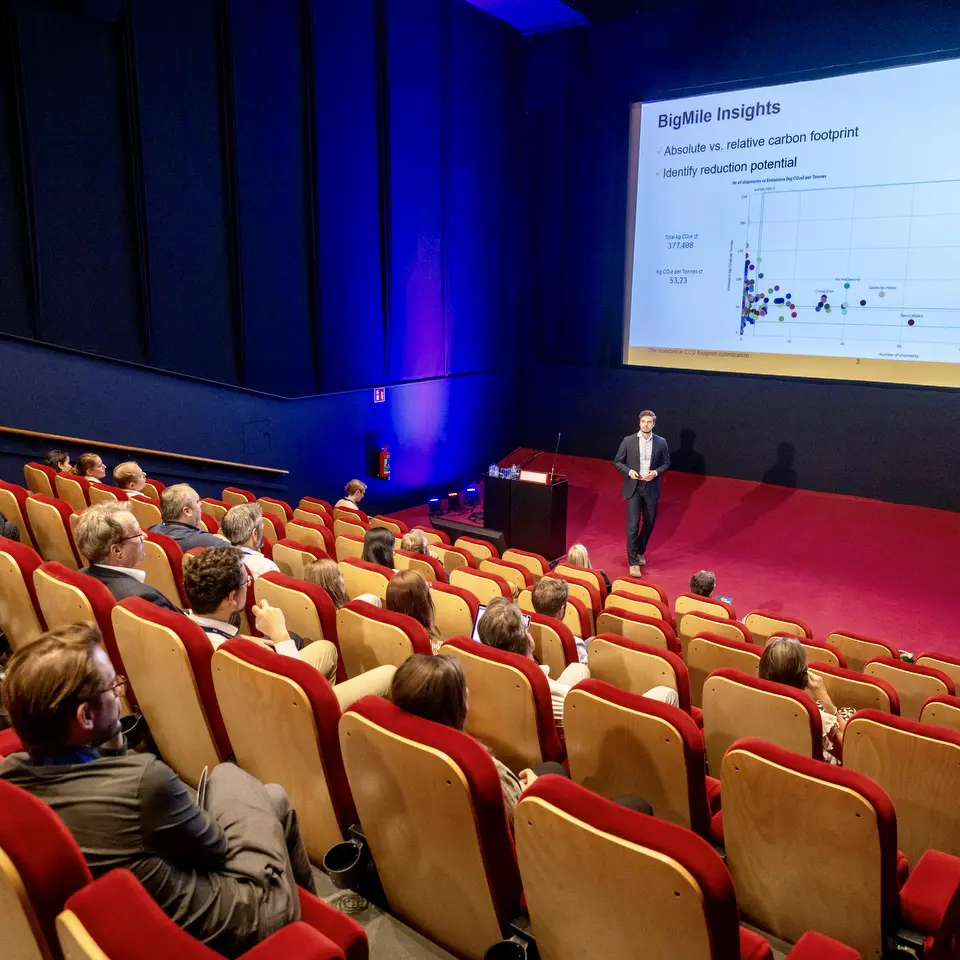 Every supply chain manager knows that one of the most obvious ways to reduce carbon emissions in the supply chain is through transport. However, few take action because it's regarded as a lot of hassle, plus it's often very difficult to measure the actual results. BigMile and GoodShipping are putting an end to this.
By Mirjam Hulsebos
The inNOWvate Supply Chain Event in Ede on 19 May included a sustainability track in the parallel programme. Sven Poot (pictured) of BigMile, one of the event partners, was the first to take the stage. "BigMile is a CO2 calculation platform. We calculate your transport-related emissions based on either fuel consumption or mileage," explained Poot.
The approach is straightforward based on importing the transport data via an API or manual upload. BigMile then calculates the absolute and relative carbon footprint for each modality used and also indicates the reduction potential if another modality were to be chosen. Users can see exactly where they can make the biggest impact by changing something in their transport network.
"Our platform provides insight into the possibilities for improvement in three areas. Firstly, you can conduct hub analysis to see whether you can make changes to your network. Suppose instead of one hub you expand your network to three hubs – what would be the impact on your emissions? And where would you then have to place those hubs? You can easily calculate that," said Poot.
Reducing shipments
The second option, he continued, is to explore the possibility for reducing the number of shipments. "The BigMile dashboard provides insight into the number of shipments you make, so you can immediately see which routes you are actually operating far too often and perhaps even half full. Additionally, maybe you can improve the efficiency of truck loading by installing an extra floor inside, for example."
The third opportunity for improvement is changing modality. According to Poot, BigMile makes it very easy to calculate how much CO2 could be saved by switching to rail, inland shipping or short sea, for example.
BigMile has the wind at its back, because upcoming regulations will require companies to report on their carbon footprint. Poot: "In time, I expect that besides VAT there will be 'VAE': a tax on value-added emissions. When that time comes, every company will want to make changes to their logistics. It's better to be ahead of the game and start now."
GoodShipping: force your 3PL to switch to biodiesel
Next, inNOWvate partner GoodShipping, a sister company of biofuel supplier GoodFuels, took the stage. GoodFuels makes biodiesel from residual streams such as animal fat, cooking oil and wood chippings. The diesel can be used in normal diesel engines, which can run either entirely on it or on a blend of biodiesel and regular diesel.
GoodFuels is targeting diesel-guzzling industries such as transportation. But what if transport companies continue to choose the lowest-priced option, even though shippers are actually willing to pay a little more for clean transport? GoodShipping can offer a solution by helping shippers to force transport companies to buy biofuel to cover the amount of fuel that is needed for their shipment. "Shipments are often consolidated, of course, especially in sea freight. We can ensure that the transport company mixes in biodiesel for your share," said founder Katarin van Orshaegen (pictured).
Extensive customer portfolio
This idea clearly appeals to numerous companies, since the customer portfolio is already extensive. It includes not only businesses already known for their sustainable revenue models, such as Formula E and Tony's Chocolonely, but also major brands like Ikea and BMW, and 3PLs like DHL and DSV.
One member of the audience asked whether there is enough waste available as the basis for making biodiesel. Van Orshaegen answered: "Definitely. Our company came into being precisely because we saw that the supply is greater than the demand. Moreover, our sister company conducts a lot of research into which waste streams are suitable for making biodiesel and it has identified sufficient sources to support substantial growth in the years ahead."
More about inNOWvate Supply Chain Event 2022?