No one-size-fits-all solution exists for visibility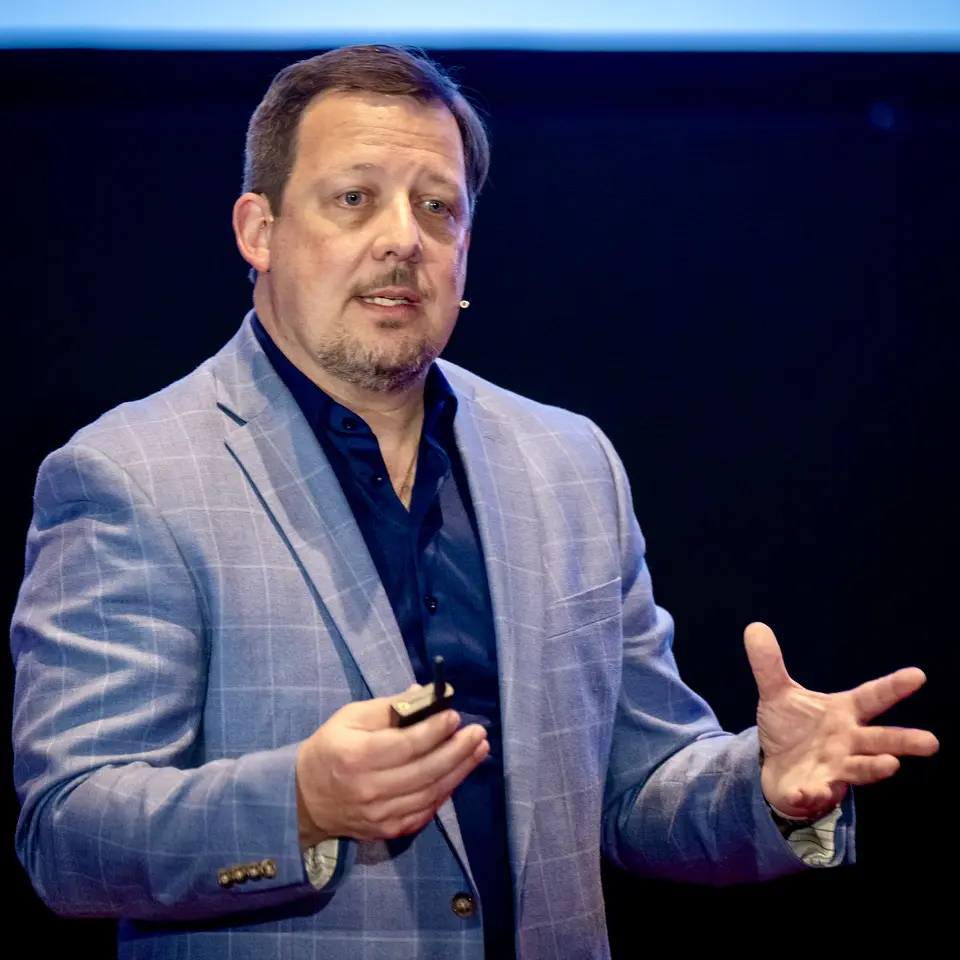 At least six of the 13 partner companies of Supply Chain Media's inNOWvate Supply Chain Event are focused on supply chain visibility. During the event on 19 May, they were united in their overarching message about their domain, but there were also clear differences between them. There is rarely a one-size-fits-all solution, and visibility is no exception.
By Harm Beerens
During their presentations in Auditorium 5 at the Pathé cinema complex in Ede, the visibility specialists were unanimous in their key message: the world is unpredictable, supply chains are disrupted, companies must become resilient and be able to respond quickly and therefore they need real-time visibility. However, as the various speakers explained how they thought such a visibility system should look, several different approaches emerged.
According to Bart De Muynck from Project44 (pictured above), the challenge lies in providing insight into global transport flows at item level. The traditional TMS packages, which companies have been using for a quarter of a century, are perfectly capable of planning transport orders, but companies are completely in the dark about what happens from the moment the products leave a factory or distribution centre (DC). They don't know whether the shipment is on schedule until the goods actually arrive at the customer. According to him, this is no longer acceptable: "You should be able to continuously inform your customer about the expected time of arrival and, more importantly, you want to be able to intervene in the case of a delay to ensure that you can still meet the demand."
Focus on exceptions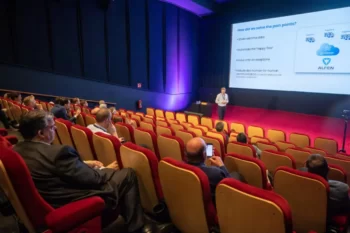 TradeCloud focuses on visibility into purchase orders and deliveries. According to founder and CEO Tonnis de Boer (pictured), the importance of this has become painfully clear now that manufacturing companies are having to put production on hold because parts have not been delivered on time. "If you have real-time insight into what is happening at your suppliers, you can avoid surprises and buyers can do their jobs more efficiently. Chasing down purchase orders is very time-consuming and can be an obstacle to company growth." TradeCloud enables buyers to focus on the exceptions because everything that runs according to plan – the 'happy flow' – is handled automatically.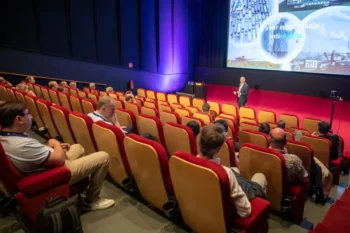 Belgian company Streamliner is likewise focused on relieving the burden on planners by automating communication and providing alerts when they need to intervene. "The way companies communicate with each other is shifting from point-to-point, like EDI and email, to platforms like Teams or Slack," stated Kris Van Ransbeek (pictured). Streamliner's visibility solutions are aligned with this and enable supply chain partners to collaborate intuitively. 'Supply chain made social', as Streamliner's slogan puts it.
Higher capacity utilization
Arjan Kerkhoff from MixMove (pictured) showed how visibility contributes to sustainability. Combining orders to create full truck loads is a complicated puzzle that requires perfect insight into what is in stock at a DC, what is on the way and when a truck is leaving. "Chemical company 3M is one of the customers using our visibility platform for this purpose and has been able to increase its truck capacity utilization rate to 96%. This has halved the associated CO2 emissions," said Kerkhoff.
Food waste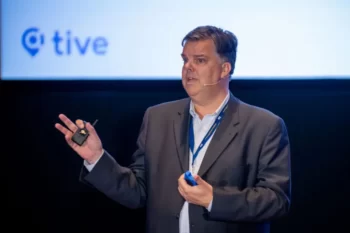 "Most visibility providers just unlock data, but we create it too," said Paul de Haan from Tive (pictured). His company has developed a tracker that monitors the geographical position and physical conditions of items such as fruit and vegetables during transport. "Retailers in the US have calculated that they have to throw away $18 billion worth of food every year because it arrives at stores in an unsaleable condition. Thanks to our tools, companies can help to prevent this and improve their communication with stores."
Artificial intelligence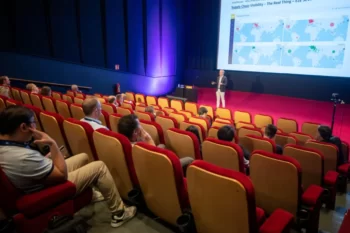 Supply chains generate billions of terabytes of data every year and machine learning-like systems are needed to process it all, stated Martin Verwijmeren, CEO of MPO (pictured). Transport visibility is only the first stage of maturity. "At the most mature stage, you have visibility into what is going on with your supply chain partners too. You share forecasts with each other and are able to predict exactly what will happen in the chain and when. To achieve that, you need artificial intelligence-based decision-making systems."
In these uncertain times, many companies have pinned their hopes on the concept of supply chain visibility. However, during the inNOWvate Supply Chain Event it became clear that visibility is not a panacea that can help all disrupted supply chains. The domain is simply too diverse and there are too many differences between suppliers.
More about inNOWvate Supply Chain Event 2022?