Insight is key for more sustainable decision-making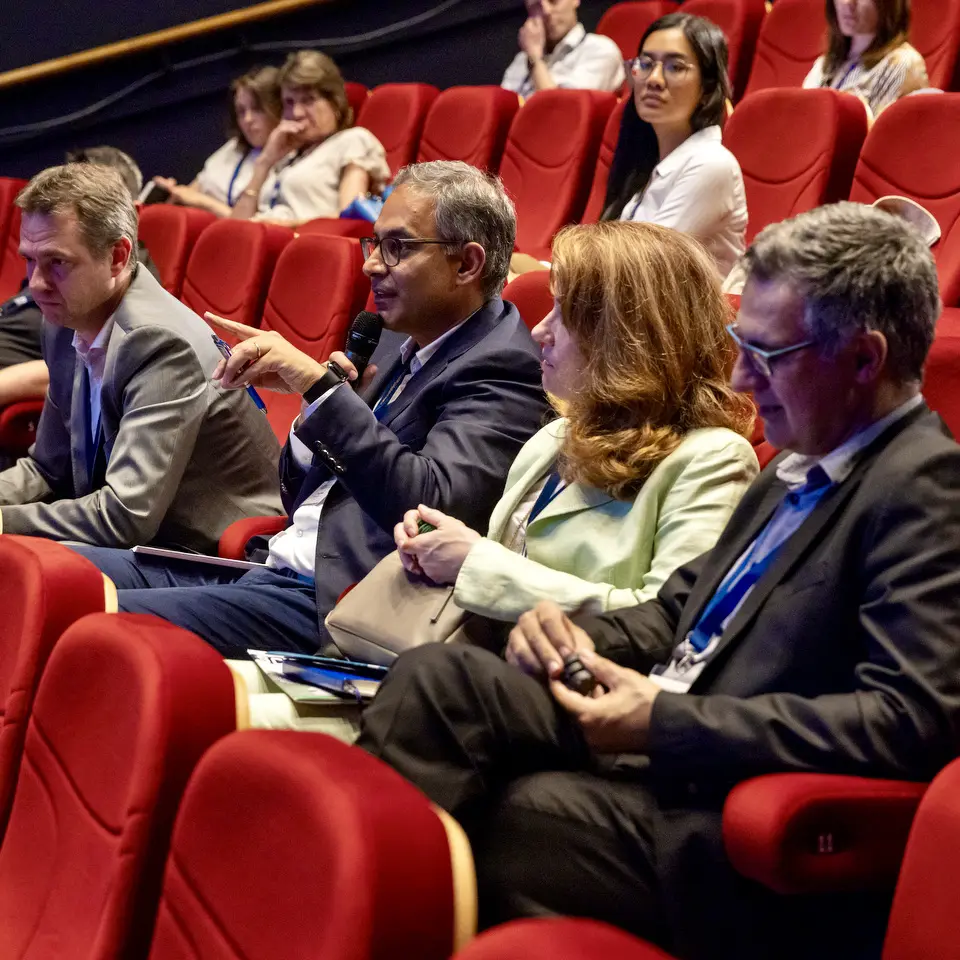 Creating a more sustainable supply chain starts with gaining more insight into current performance. 'To measure is to know', as the saying goes, and that forms the basis for improvement. The numerous start-ups that are entering the supply chain domain are clearly aware of this and are using technology such as blockchain and artificial intelligence to uncover previously hidden insights. To gain a clearer understanding of the business models of such start-ups, Supply Chain Media organized a Dragon's Den-style session during the inNOWvate Supply Chain Event on 19 May in Ede.
By Mirjam Hulsebos
Which start-up would you be willing to invest in? That was the question during the 'Dragon's Den' session on sustainability during the inNOWvate Supply Chain Event. The 'dragons' in this case were Tariq Farooq (SVP Global Supply Chain at Sanofi), Sami Naffakh (Chief Supply Officer at Reckitt), Robert Pekar (Vice President Supply Petcare Europe at Mars) and Francesca Gamboni (Chief Supply Chain Officer at Accell), who each had a fictitious amount of €250,000 to invest.
Circularise: reducing waste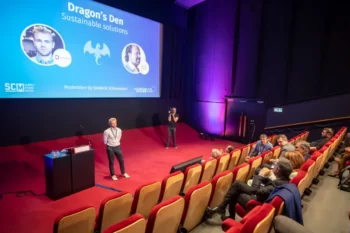 The first start-up to pitch was Circularise, a small Dutch company that started out in 2016 and is focused on reducing waste through better recycling. This is based on a digital passport that provides insight into the raw materials that have been used in a product. Once that is known, it becomes a lot easier to recycle those products. Many suppliers are currently unwilling to provide transparency into the composition of their products for intellectual property reasons. After all, if you have developed a certain type of plastic with specific properties, for example, you don't want to give your trade secrets away to your competitors.
Circularise adds value by bringing together data from multiple suppliers and anonymizing it. The suppliers themselves retain ownership of their data and their customer relationships. Customers only gain insight into the use of raw materials in the total product or component. As Circularise itself describes it: "We are just an information highway. Our customers decide which data they want to share. We have that data verified by independent parties such as the IPCC."
Circularise now has the wind at its back in Germany, since the German Supply Chain Act requires large companies to provide transparency into information from direct – and sometimes also indirect – suppliers. "Governments in other countries will soon start demanding this too," said Igor Konstantinov, Head of Marketing (pictured).
The dragons had some questions for him. Firstly, why does the company, which was founded six years ago, still only have 15 customers? Konstantinov: "Because we spent the first few years of our existence focusing on perfecting the information highway. Now that the product is finished, it's time to enter the market more broadly, and we need money for that."
Another question concerned the strategic focus. So far, Circularise has focused mainly on the make-up of the plastic that is used in products, because without that information it's virtually impossible to recycle it at all, and at best only to make very low-value products from it. The dragons indicated that they also saw a market in information about batteries since they pose a major challenge. Moreover, Porsche is one of Circularise's most important customers. "They will most likely also need data on the composition of batteries," suggested the dragons.
When asked whether they would be willing to invest, the dragons were in some doubt. They found the idea appealing, but they still had lots of questions. There is clearly a need to increase the level of recycling and, to do that properly, it is necessary to know which raw materials products contain. But during the pitch and subsequent 10-minute Q&A session, Circularise didn't entirely succeed in explaining how exactly it supports that. Nevertheless, three out of the four dragons were willing to take a gamble and make a small investment, but they did not want to go all-in.
BigMile: making smarter transport choices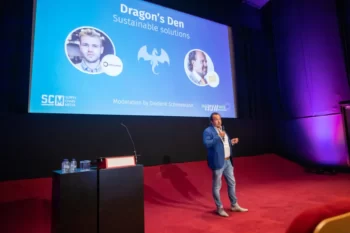 The next company to pitch was actually a scale-up rather than a start-up. Even though it has only been around for two years, BigMile already has an impressive customer portfolio. The company focuses on reducing transport-related emissions. To do that, it's first necessary to know exactly how much you are emitting. BigMile calculates that for you. It is a Software as a Service (SaaS) product. After you have simply uploaded your transport data – the number of inbound and outbound kilometres covered by road, water, rail and air – BigMile then calculates your CO2 emissions for you based on the average emissions of a truck, barge/container ship, train and aeroplane.
There are other companies that do something similar, but BigMile sets itself apart by making the data actionable. You can see where your emissions are the highest and you can calculate how much you could save by opting for an alternative modality. You can also see whether combining loads in a smarter way means you could reduce the number of trucks needed, or if changing your hub strategy would reduce your total transport mileage, explained Managing Director Jan Pronk (pictured).
The dragons were impressed by the concept and company's rapid growth. "You understand the pain point of transport customers very well," they concluded, alluding to the fact that such customers often complain that they are so busy reporting that they have no time to make improvements. BigMile links reporting to action, and none of the dragons had ever seen that before. They were not at all surprised to discover that BigMile had an impressive portfolio of clients. All four of them decided to invest.
Seedtrace: what does the farmer really earn?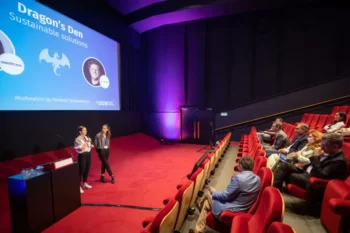 The third company to pitch was Seedtrace, a German start-up that uses blockchain to provide insight into where coffee, chocolate and other foodstuffs come from and how much farmers really earn from selling them. The two women who started the company, Katharina Elisa Davids (pictured, right) and Ana Selina Haberbosch (left), both have a background in marketing. "We know from a lot of research that consumers are quite willing to pay for a more sustainable and fair choice, as long as they know that the money actually ends up with the farmer and not with the multiple traders in the chain," they said. This is at the heart of the success of Tony's Chocolonely, a company that has made 'slave-free chocolate' a familiar term in the Netherlands. The term does not yet exist in neighbouring countries, but Seedtrace wants to change that.
"In the case of products like coffee or cocoa, the farmer receives less than 6% of the price the consumer pays. If you make it clear to consumers how their decisions impact on the life of a farmer in Ghana, then they are willing to pay a little more," stated Davids. "But you have to communicate this clearly – not just using factual information, but also making the emotional connection. If consumers realize that they can make a decision which can improve a farmer's life, they will. But simply making them pay more in exchange for a vague promise doesn't work." That's the reason for choosing blockchain, which supports supply chain transparency right from the source – and consumers can scan a QR code on the product to see that information. "But that alone is not enough, because ultimately less than 1% of all consumers actually scan such codes. So the manufacturers themselves will also have to get the message across, but that's an opportunity for them to distinguish themselves."
The dragons agreed that everything hinges on good marketing. Seedtrace itself works together with various online marketing agencies that develop its campaigns, especially for social channels. "The advantage of online campaigns is that we can provide our clients with insight into how many people are looking at the data, how deeply they are delving into the data and how you can reach those people with tailored marketing activities. This allows manufacturers to target specific audiences," said Haberbosch.
The dragons indicated that they believe in this approach, although they advised the women to first focus on two markets instead of the 12 product categories for which they currently provide data. "It's important to know where the milk in a product comes from too, of course, but if you start with coffee and cocoa, then you are already making a huge impact. It's better to do really well in a few markets than only slightly well in a lot of markets," the dragons stated. Providing that the two women took this tip to heart, all four of them were willing to invest some money in this company.
Carbmee: insight into Scope 3 emissions at last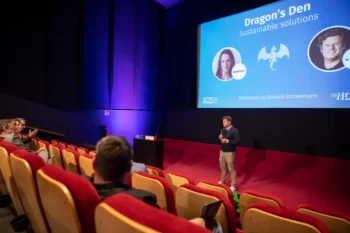 Lastly it was the turn of Carbmee to pitch its SaaS software for insight into end-to-end supply chain emissions and CO2 hotspots. The solution is straightforward based on the upload of purchasing data from the ERP or Supplier Relationship Management (SRM) system into Carbmee. The software uses a CO2 emissions database that is compliant with the GHG Protocol and calculates the approximate emissions of the purchased products. Armed with that information, buyers can pressurize their suppliers into finding more environmentally friendly alternatives.
The database contains 18,000 datasets for activities and products in every sector imaginable. As a result, manufacturers can see not only the Scope 3 emissions of the product itself, but also those stemming from transportation, packaging and all the other activities involved in the production and transportation process. "You really gain insight into your end-to-end chain," stated founder Christian Heinrich (pictured).
The dragons immediately spotted the added value, because what buyers often currently lack is insight into the emissions at the Bill of Materials level: "This finally gives buyers an instrument with which they can really enter into dialogue with their suppliers. They can go into depth and focus on the raw materials and components that generate the highest emissions." In fact, the dragons had only one piece of advice: "The other start-ups dream too much. You're a man focused on the reality, and as an academic you want the software to work sublimely. Actually, you can afford to dream a little more. Dare to think big!"
Time to act
The sustainability track during inNOWvate offered a lot of inspiration. The featured start-ups showed just how diverse the landscape is and how it is still possible to make improvements by zooming in on multiple areas of your supply chain. Moreover, it became clear that providing transparency into your emissions and making more sustainable choices no longer has to be time-consuming. For many of the services, it's simply a matter of uploading your data into a SaaS tool through an API and gaining immediate insight into potential improvements. So what are you waiting for?