Recording & slide deck GoodShipping | inNOWvate Supply Chain Event 2022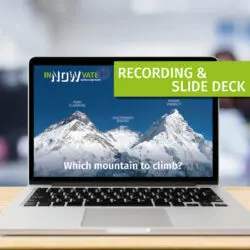 How to decarbonize your freight emissions
Speaker: Katarin van Orshaegen, Commercial Manager Goodshipping
The adoption of CO2 emissions reduction solutions is accelerating globally, but the maritime supply chain is seriously lagging behind. Katarin explained how to make it easy to take action today and reduce CO2emissions in your supply chain.
About GoodShipping
GoodShipping is the world's first initiative that decarbonises a company's supply chain by actually replacing fossil fuels with truly sustainable alternatives. Next to that, GoodShipping participation provides maximum fuel transition impact – as it boosts market & product innovation to adopt sustainable low carbon fuels.
Recording & slide deck GoodShipping
The recorded session is available on the YouTube channel of Supply Chain Movement. The slide deck is available for download below.
Download:
Slide deck inNOWvate Supply Chain Event 2022 | GoodShipping