Promising start-ups and scale-ups unlock the power of data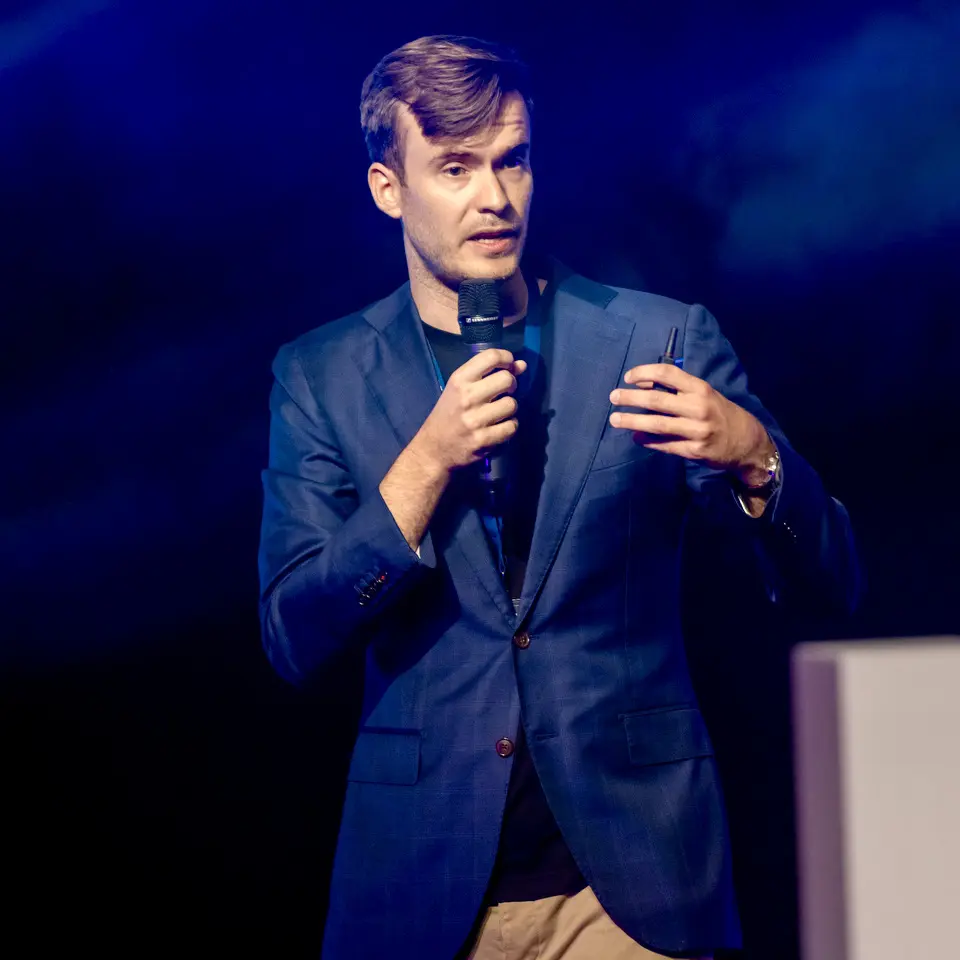 How can you extract valuable insights from a mountain of data without requiring a room full of data analysts? The six most promising supply chain start-ups and scale-ups are using new technologies such as machine learning and blockchain to achieve this, as they demonstrated in their pitches during the inNOWvate Supply Chain Event on 19 May. One of them was Responsibly, the winner of this year's European Supply Chain Start-up Contest: "If you wanted to evaluate the sustainability of all your suppliers yourself, you would need to consult hundreds of different data sources."
By Marcel te Lindert
According to Responsibly, procurement plays an important part in making supply chains more sustainable. Co-founder Thomas Buch Andersson (pictured) cited research showing that 40% of global greenhouse gas emissions can be directly or indirectly traced back to purchasing decisions. "We want to empower buyers to use their influence, but that is very complex. After all, sustainability is not only about carbon emissions, but also about other issues such as child labour and deforestation. And how can you compare the performance of different companies when it's calculated in different ways?"
Responsibly has developed a tool that 'scrapes' relevant sustainability data from public data sources such as websites and reports. The data is automatically consolidated and transformed to make supplier performance comparable. Artificial intelligence plays an important role in this process. "This gives buyers the information they need to create truly sustainable supply chains," concluded Andersson at the end of his pitch.
External data
According to Garvis, the second shortlisted start-up, it is demand planners rather than buyers who play a key role in the supply chain. "Everything an organization does is directly or indirectly based on the demand plan, yet demand planners are still working with tools that assume that the past repeats itself. That, of course, is not the case," stated Piet Buyck, CEO of Garvis, referring to the many recent disruptions that have turned entire supply chains on their heads. "We provide trainable, transparent artificial intelligence that demand planners can use to guide their organization through these troubled times."
That artificial intelligence also makes it easier for demand planners to make use of external data. "We have a wealth of data in the world that shows how the future may look, but demand planners can't integrate it into their current tools. Most systems are purchased for financial reasons or their fancy dashboards, but the underlying technology is often little different from Excel. We empower demand planners themselves to link all the external events in the world to their demand plan, to enable our tool to keep learning."
Blockchain technology
The third start-up to pitch, Seedtrace, has based its solution on a different technology: blockchain. Founders Ana Selina Haberbosch and Katharina Elisa Davids are using that technology to make international coffee and cocoa supply chains fairer and more sustainable. "Our tool enables companies in these supply chains to analyse their chains and share data with their partners. We can trace every payment made to a cocoa farmer in Ghana and check whether it was made fairly before recording the transaction in the blockchain. Then, with one simple click, users can publish the information from the blockchain through all relevant communication channels, so that consumers are able to make sustainability-based decisions when they are in stores," explained Haberbosch and Davids.
Scale-up Carbmee is another user of artificial intelligence to analyse suppliers' CO2 emissions. Carbmee's software takes data from suppliers' ERP systems and, using artificial intelligence, matches it to the GHG Protocol: a leading standard for calculating carbon emissions. That allows companies to focus their attention on Scope 3 emissions, which account for the bulk of supply chain emissions. "Everyone talks about sustainability, but before you can take action you need insight into the emissions per transaction and per business process. Then, you can enter into dialogue with your suppliers," said co-founder Christian Heinrich.
Focus on transport
The final two pitches were from two scale-ups focused on transportation. Shipnext has developed a platform for digitizing communication between shippers, forwarders and carriers. Technologies such as blockchain, natural language processing (NLP) and machine learning are used to extract relevant data from emails and other messaging systems, and to automate workflows. "In effect, we are creating a digital replica of the transport market, which enables shippers to find the best transport solution more easily," commented founder Alexander Varvarenko.
At first glance, the winner of this year's European Supply Chain Scale-up Contest offers the least technologically advanced solution of all the newcomers who were allowed to pitch their solution during inNOWvate. StoreShippers stands out for its focus on a niche in the transportation market: the last mile from store to consumer. "Why can you get a pizza delivered within an hour, but it takes five days to receive a pair of jeans? The answer lies in the local availability of the products," said co-founder Pieter van den Hoven (pictured).
He explained that their store networks put retailers in an excellent position to deliver to consumers quickly and sustainably. However, they need to look for local transport partners in every city and managing such a network is an impossible task for large, internationally active retailers. "Our platform offers a solution in this respect. Our network already covers 350 cities across ten countries. We're enabling retailers such as Rituals and Nespresso to bring the in-store ambiance to people's doorsteps."
More about inNOWvate Supply Chain Event 2022?