Supply Chain Movement 48 | Innovations & Start-ups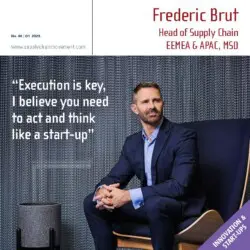 The main theme of the Q1, 2023 issue of quarterly Supply Chain Movement is Innovation & Start-ups. 
Publication Date: March 3, 2023
12 | Profile Frederic Brut, Head of Supply Chain EEMEA & APAC, MSD
Frederic Brut describes himself as a chameleon and an inclusive leader, adapting with speed and agility to a continuously changing world. "We live in a volatile, uncertain, complex and ambiguous world where the only thing that's certain is uncertainty. To evolve in our increasingly disruptive world, I believe we need a new and different type of leader and way of leadership. We need to be chameleon leaders that listen to their teams, peers and followers, change their DNA when it's needed, and reinvent themselves as the ecosystem changes. That type of leader is capable of adapting to the worst situation and still deliver value," says the head of supply chain EEMEA & APAC of Merck (MSD outside of USA and Canada).
Brut not only coaches his own supply chain team, he also mentors health care executives in several African countries to support local supply chains. "Coaching and mentoring is part of my DNA. When new opportunities resonate with your own passion then that drives your motivation," he says.
19 | Roadmap to Real-time Multimodel Visibility
In today's fast-paced business environment, having a supply chain that is efficient, reliable and transparent is more important than ever. Achieving real-time multimodal visibility is key to unlocking the full potential of a supply chain, enabling organizations to make informed decisions, reduce risks and improve customer satisfaction.
20 | Management: Digital Platforms
'People remain indispensable in freight forwarding'. The rise of digital platforms started in the European transportation sector about five years ago. Start-ups from across Europe and beyond promised to make arranging transport as easy as booking a taxi. Nowadays, many platforms are positioning themselves as digital freight forwarding companies. But despite all the automation and digitalization, the human factor still appears to be indispensable. What do customers think of this?
27 | SCM Consulting Subway Map
Consulting is thriving in a VUCA world. Just as in 2021, most European consulting firms did very well last year, with over 80% generating more profit in 2022 than in the previous year. When 29 consulting firms were asked what types of projects they had carried out, sales & operations planning (S&OP) scored the highest, followed by supply chain strategy projects and network optimalization projects. Notably, there were several acquisitions in the consulting market over the past year, plus various propietary software applications have been developed. All of these changes are visualized in the tenth edition of the SCM Consulting Subway Map of Europe.
30 | Maturity Matrix Start-Ups
Compared with a year ago, supply chain start-ups in Europe are finding it more difficult to raise capital, according to the feedback from 29 start-ups during Supply Chain Media's research for the annual Maturity Matrix. However, the situation looks rosier in terms of sales pipeline and international expansion. Most newcomers in this year's overview offer innovative digital solutions for sustainability and supply chain planning.
36 | Management: Supply Chain Leadership
Today's supply chain superheroes are getting tired. Since the pandemic started two and a half years ago, they have been working almost nonstop to keep the world's supply chains running. But the heavy workload is starting to take its toll. Research shows that one in three supply chain professionals show symptoms of a burnout. What can be done to reduce the workload and the associated stress?
43 | Checklist for Mission Command Leadership
In 2010, Professor Stephen Bungay proposed that companies could apply the military concept of Mission Command leadership as a way of coping with the challenges imposed by the fast-changing and unpredictable dynamics in business environments. Now more than ever, the widespread social, economic and geopolitical uncertainty is affecting the way companies are doing business. The issue of how to deal with all this turmoil is of the utmost urgency.
50 | Supply Chain Agenda: Ewan Andrew, President, Global Supply & Procurement and Chief Sustainability Officer, Diageo
Ewan Andrew has worked for Diaggeo for more than 25 years. Having risen through the ranks, he knows how to deliver a world class supply chain for the global producer of brands such as Guinness, Smirnoff and Johnnie Walker. As President, Global Supply & Procurement he is working with his teams to constantly innovate and maximize efficiency of the supply chain from grain to glass. Disruptions, such as the pandemic, have been a springboard for growth, have accelerated performance and elevated the supply chain's strategic importance.
Want to read more?
Subscribe now to the quarterly magazine of Supply Chain Movement >> https://shop.supplychainmedia.eu/product/digital-subscription/