Supply Chain Movement 44 | Innovation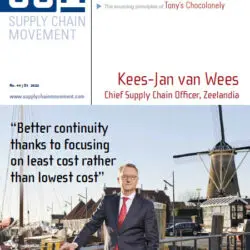 The main theme of the Q1, 2022 issue of quarterly Supply Chain Movement is Innovation. This issue appeared digitally on march 3 and has been received in hard-copy march 4.
10 | Consulting Subway Map Europe
In 2021 almost 90% of European consulting firms saw a rise in profits from their supply chain consulting activities, compared to only roughly half of them a year earlier. Nearly three-quarters of them did supply chain network optimization projects most often, followed by Sales & Operations Planning (S&OP) projects (68%) and supply chain strategy projects (61%). These findings became apparent during the research for the annual SCM Consulting Subway Map of Europe.
12 | Profile Kees-Jan van Wees
Besides successful financial results and continuity, the primary goal of bakery ingredients supplier Zeelandia – which was founded in 1900 by Herman Johan Doeleman – is to keep the company in family hands for the next 122 years too. The availability of raw materials is currently one of the biggest challenges in the bakery sector, so Chief Supply Chain Officer Kees-Jan van Wees has lots of freedom to do 'whatever it takes'. Which supply chain transformations is he implementing?
20 | Management: Digital Twins
Companies need to improve their responsiveness to market changes and supply chain disruptions, but most supply chains don't allow time to try out new concepts. Digital twins offer a solution, but how do you go about setting them up and using them? And is it smart to create a single digital twin for the entire end-to-end supply chain? Here, leading companies including Siemens and Volkswagen share their insights.
28 | Maturity Matrix Start-ups
European supply chain start-ups appear to be making the most of the huge wave of investment in digitalization. As the basis for its annual Maturity Matrix, Supply Chain Media analysed a total of 125 start-ups in Europe and surveyed 41 of them. According to over 60% of those surveyed, they now have more sales leads than they did before the COVID-19 pandemic. Since last year, besides growth in the number of supply chain sustainabilityrelated players, new start-ups have also emerged in transport planning and demand planning.
34 | Management: Supply Chain Talents
Many supply chains are currently struggling to cope with all the disruption, but at least there's an upside: high potentials are becoming increasingly interested in a career in supply chain management. However, before young professionals can make a worthwhile contribution in the supply chain arena, they first need to develop the relevant skills.
Further more in this issue:
Checklist Network Design Tooling
Checklist Advanced Supply Chain Visibility
Checklist Robotic Fulfilment Automation
Tony's Chocolonely's Sourcing Principles
The Silicon Valley skill of Tesla
Take a digital subscription now so you don't miss this issue!