Whitepaper: Where is the real value in visibility?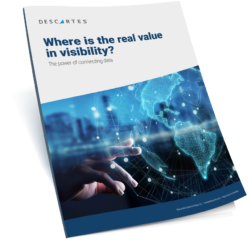 Visibility is what it's all about for supply chain and logistics managers. Having real-time visibility and insights into your supply chain leads to all kinds of benefits. Performance improves, costs fall, and customers are happier. As a shipper or forwarder with increasing competition, you can't afford not to make your supply chain transparent. What's more, companies have a variety of reasons for wanting a clear picture of parts or all the supply chain.
What do you need?
Obviously, when you embrace visibility it's important to think about how to achieve it and what tools you'll need. Is that a dashboard, a platform, AI, a TMS or a combination of these applications? Should you develop, choose and implement them yourself, or call in outside expertise? But before you get started, you first need to decide what kind of insights you are looking for, what data you need and have available, and how to create the most value by linking all these data together. What is more, the data should be converted into action by someone inside or outside your organisation. Preferably automatic action, so that it does not lead to piles of unnecessary emails and disappearing information, leading to the action being shelved. Lots of questions, which we'll answer in this whitepaper.
1. What exactly is real-time visibility?
Let's start with an example: visibility is a clear picture on the logistics chain for toys – for example, radio-controlled cars – during their journey from Asia to Europe. A journey that can be followed step by step, tracked until the item is in the store in time for a special campaign or the Christmas season. During the journey, you can see whether each link (plane, boat, truck) is on schedule and when the container or pallet with the toys can be picked up at a port or warehouse. At the same time, there is clarity on things like the contents of a shipment, its value, condition (temperature) and customs formalities (documents required).
2. Why is visibility so important for shippers and forwarders?
There are several reasons why real-time visibility matters so much to shippers and forwarders – more than, say, 10 or 20 years ago. One reason is that companies get more understanding of how best to respond to uncertainties in the supply chain. Another and equally important reason is that a company can give customers a clearer picture of where their products are in the supply chain. Additionally, customs data can be useful, for example notifications when cargo is released by customs. This can benefit shippers and forwarders.
3. The power of data in the logistics chain
Visibility is a top priority because more and more companies are recognising the power of data in the logistics chain. With the availability of data from different corners of the supply chain, you can increase control and flexibility when it comes to goods movements. You know what's happening at each link in the supply chain and can react accordingly. In an ideal world the planner of that chain doesn't spend all day checking whether things are going well. What you want above all is to be able to send automatic notifications via EDI/API to the relevant stakeholders in the supply chain. Even if you'd rather only receive notifications about the things that are going wrong or threatening to go wrong. You can then put your energy into that, for example by informing customers in time before they raise the alarm themselves.
4. How can you create the most value by connecting data?
Someone who has a lot of data from the logistics chain can also combine it into meaningful information. It can then be used to trigger automatic actions and thus create value. Shippers and forwarders who have reached this point benefit from data driven logistics. TNO (The Netherlands Organization for Applied Scientific Research) researchers published an article summing up the main benefits, in the form of efficient logistics using (mostly real-time) data:
• Predictable transport and smart planning
• Planning with impending ships and expected arrival times
• Managing traffic flows in cities
Descartes is providing on-demand software-as-a-service solutions aimed at improving the productivity, performance and security of logistics-intensive businesses.
Find more whitepapers of Supply Chain Movement here >>
Download:
Whitepaper: Where is the real value in visibility?