Whitepaper: Transition to a more sustainable supply chain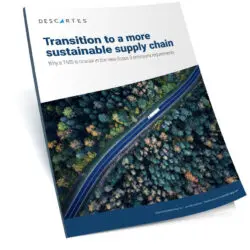 From January 1st, 2024, large companies in Europe must report transport emissions, including companies that outsource transport. Companies must report on CO2, CH4, and N2O emissions, from Scope 1 to Scope 3 emissions, upstream and downstream. The same rule applies to smaller companies from January 1st, 2025.
A TMS can help with this, as it makes it easier to process and reuse data from the transport chain. This is necessary to store and process emission data from the supply chain and convert it into clear reports. Companies that thoroughly address sustainability can find opportunities in this transition. Measuring is knowing, and therefore it is essential for companies to achieve their sustainability goals.
Complying with the new regulations is not optional. In fact, sanctions for companies that do not act in time can be quite costly. The 'penalties' start with a public notification and move on to mandatory adjustments/reporting. So, it is important to carefully consider the rules for your company and map out the necessary steps. The whitepaper can help you with that.
In the whitepaper, we explain the following:
• What regulations are coming for companies?
• Why is a TMS important for reporting emissions?
• How does a TMS help to meet sustainability requirements?
• How to make the best choice?
Download the whitepaper
Download Descartes whitepaper now to ensure that your organization is ready on time.
Download:
Whitepaper: Why a TMS is crucial in the new Scope 3 emissions requirements