Whitepaper: The future of cost engineering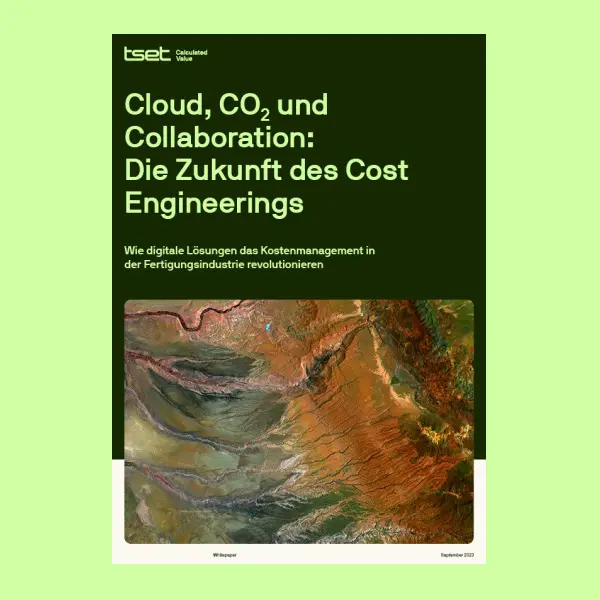 Global megatrends in a dynamic economic context are presenting the manufacturing industry with considerable challenges. Ever-changing customer needs require shorter product development cycles and technical innovations from manufacturers. Take the electrification of the automotive industry as an example. It's opening up new markets by creating numerous new components and manufacturing processes. But this also means changing competitive structures. And the EU's Carbon Border Adjustment Mechanism (CBAM) will introduce even stricter carbon emission regulations as early as this October, which will become an additional cost factor in 2026. Some analysts also predict new global economic upheavals.
To remain competitive amid all these challenges, businesses need agile, forwardlooking cost management that encompasses the whole supply chain. This has become an almost impossible ask for many stakeholders using existing methods and processes. But there is an alternative to conventional cost engineering in the form of standardised, highly automated digital solutions that can quickly generate cost and carbon simulations on the basis of predefined cost models and comprehensive data libraries.
This whitepaper explains how businesses can adapt to changing conditions and benefit from new technical opportunities. It is directed mainly at decision-makers and experts who are involved in product development, procurement, cost management and controlling in the manufacturing industry, from original equipment manufacturers (OEMs) to indirect suppliers. It examines the latest economic dynamics and trends from a cost engineering point of view, and offers solutions for forward-looking cost management. Finally, it shows how standardised digital solutions can create added value inside a company's value chain, from procurement through production to sales, and in the supply chain as a whole.
Challenges and trends in cost engineering
Cost engineering has become an inescapable element of the manufacturing industry. Increasingly complex industrial products require ever-shorter product development times. Professional cost engineering combines engineering knowledge with the systematic analysis of cost factors to make production processes as economical and efficient as possible. Eco-friendliness and sustainability in production are also increasingly important factors, especially with regard to the carbon emissions variable. A wide range of different departments are involved whenever a business develops a product, and they utilise cost and carbon calculations. But human resources are growing scarce, as too is the technical expertise needed to implement processes throughout whole organisations. The shortage of skilled workers alone is making it more and more difficult to find qualified personnel. This is where professional cost engineering using digital solutions comes in.
Find more whitepapers of Supply Chain Movement here >>
Download:
Whitepaper: The future of cost engineering