Supply Chain Movement 50 | Sustainability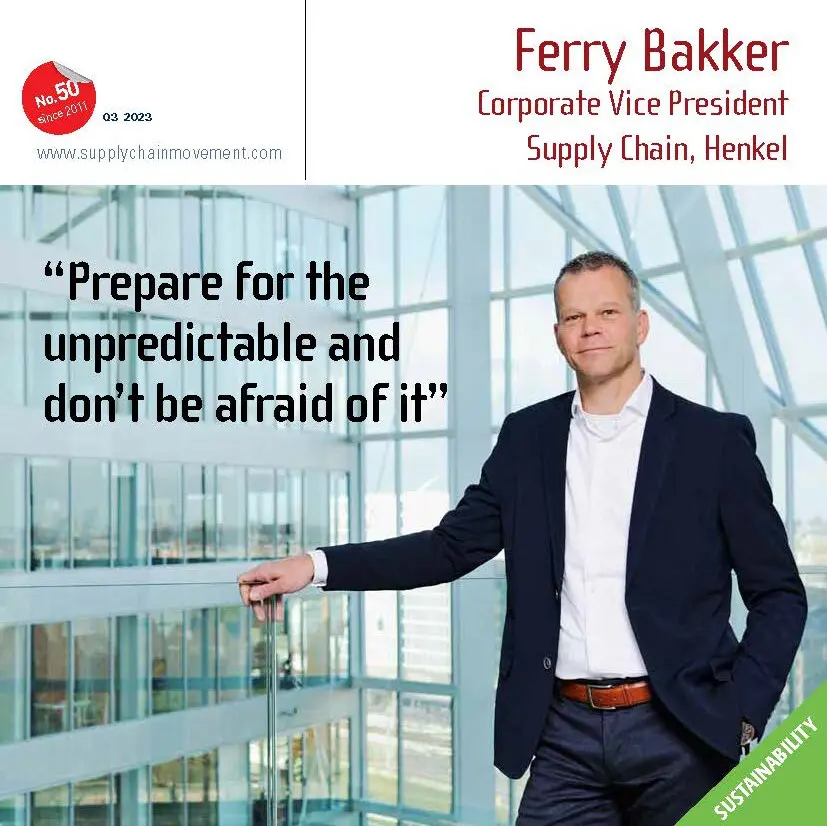 The main theme of the 50th issue (Q3, 2023) of the quarterly magazine Supply Chain Movement is Sustainability. 
Publication Date: September 29, 2023
12 | Profile Ferry Bakker, Corporate Vice President Supply Chain, Henkel
Today's world is more 'VUCA' than ever, with a rapid succession of disruptions: COVID-19, the war in Ukraine, material shortages, climate change, inflation… not to mention highly volatile demand and strong lock-in effects impacting on many supply chains. Henkel decided to merge two business units and change the organizational setup, resulting in integral management of the end-to-end supply chain in each region. "We can now respond much faster and better," says Ferry Bakker, Corporate Vice President Supply Chain High Growth Region at Henkel Consumer Brands.
19 | Checklist: Supplier risk management
According to Deloitte's 2023 Global Chief Procurement Officer Survey, over 70% of respondents believe that supply chain disruptions have increased procurement-related risk over the past year, bringing forth new complexities. 10 questions to help you manage supply chain disruptions.
20 | Management: Innovation & Leadership
Due to increasing uncertainty and unpredictability, supply chains requires a new type of leadership. At Supply Chain Media's inNOWvate Supply Chain Event, it became apparent that the military is an example of how that leadership could look. It starts with defining a clear-cut mission, creating a framework and ensuring the conditions are clear. And then you give your people the feedom to decide how to achieve the objectives within that framework.
27 | Checklist: Resilient planning
In today's era of rapid change and uncertainty, effective risk modelling is crucial for supply chain planning. While risk pose threats, they also present opportunities for growth and innovation. Forward-thinking companies recognize the importance of capitalizing on emerging market trends, technological advancements and changing customer preferences. 10 questions on the use of decision intelligence for risk mitigation
30 | Management: The key to building circular supply chains
A circular supply chain not only contributes to sustainability but also strengthens resilience. Many businesses are aware of the benefits, but struggle to close the loop profitably. Companies that do succeed owe it to a smart business model and smart logistics.
41 | Roadmap to an end-to-end control tower
Companies face constant challenges such as increasingly sudden disruptions, changes in customer behaviour and growing competition. They need to gain complete end-to-end visibility across their entire supply chain – from Tier N suppliers to final consumers – to anticipate events in real time and in field-connected mode. In this roadmap, Supply Chain Movement and Tesisquare visualize typical obstacles and solutions along the route to and end-to-end control tower.
43 | Self-assessment sales & operations planning
Your objective is a supply chain which is optimally aligned with market demand. Hence, sales & operations planning (S&OP) is crucial. But what does S&OP really contribute to your company's performance? Is S&OP delivering demonstrable results? To help you discover how well your S&OP process is actually functioning, Supply Chain Movement and Involvation have developed this practical self-assessment model.
44 | Checklist: Inventory visibility
Visibility and control are vital in inventory management. A study by McKinsey reveals that 77% of companies are extensively investing in this area. In response to market uncertainty, companies have increased their inventory levels in recent years, and moved the stock to forward stocking locations positioned closer to customers. However, this new reality has brought a new set of challenges as these locations are beyond the reach of existing warehouse management systems.
Want to read more?
Subscribe now to the quarterly magazine of Supply Chain Movement >>