Supply Chain Movement 47 | Resilience & Systems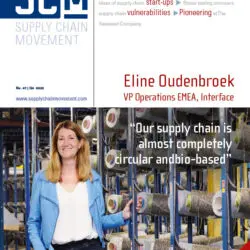 The main theme of the Q4, 2022 issue of quarterly Supply Chain Movement is Resilience & Systems. Read this issue for free here. 
Publication Date: December 2, 2022
10 | Profile Eline Oudenbroek
In 1994, the founder of Interface, a manufacturer of carpet, rubber and vinyl tiles, launched 'Mission Zero' and set himself the goal of eliminating the company's negative impact on the planet by 2020. He succeeded, which meant it's time for a new initiative: Climate Take Back, aimed at helping to reverse global warming. One of its pillars is to use CO2 as a resource and raw material rather than viewing it as an enemy. This has huge implications for products, and thus for the total supply chain. How is Eline Oudenbroek, VP of Operations, leading the organization through all these changes?
18 | Management: Seeking new software
Supply chain disruption causes doubts and despair within companies. Many existing planning systems fall short in factoring in unpredictability and uncertainty. Therefore, more and more supply chain professionals are keen to find supply chain software solutions that do support scenario analysis and automated planning processes.
28 | Saint-Gobain: Working with a start-up
When French multinational Saint-Gobain was looking for a solution to its operational supply chain planning challenges, Supply Chain Director Josep Tascon Estrada contacted the start-up Flowlity and eventually decided to launch a pilot. In this article, he explains why he chose a start-up and reflects on the experience. What tips does he have for other companies? "When working with a start-up, it's important to stay pragmatic and avoid getting carried away by the promise of the 'ultimate' solution."
32 | Stress testing uncovers vulnerabilities
The first step towards a more resilient supply chain is to map it in detail. Next, it is important to identify which parts of the supply chain are most vulnerable. To do this, businesses are increasingly using the approach MIT professor David Simchi-Levi introduced a decade ago. Supported by modern tools, his approach makes it possible to stress test any supply chain.
40 | Top 28 Supply Chain Executives Europe
As a result of the ever-growing number of strategic issues, supply chain executives are having to make tough choices. The war in Ukraine has further exacerbated the turmoil that has been affecting global supply chains since the start of the coronavirus pandemic. According to the executives surveyed by Supply Chain Media, the megatrend of sustainability & resource scarcity will have a greater long-term impact than digitalization. The online survey about future leadership was conducted as part of the preparations for the annual Top 28 Supply Chain Executives in Europe ranking.
Further more in this issue:
Software selection requires a race plan
Column request for problems (RFP)
Media: Net Positive (Paul Polman)
Pioneering at the seaweed company