Supply Chain Movement 41 | Planning & IT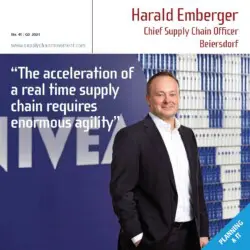 The main theme of the Q2, 2021 issue of quarterly Supply Chain Movement is Planning & IT. This issue appeared digitally on June 10 and has been received in hard-copy on June 11. 
12 | Profile Harald Emberger, Beiersdorf
Nivea is one of the world's best-known skin care products. But its manufacturer Beiersdorf is 'relatively small', according to Harald Emberger. Having worked for Mars Inc and Unilever he might say that. Emberger joined Hamburg-based Beiersdorf in 2015 with a brief to setup an end-to-end supply chain. "That had been my dream. Supply chain is my passion and I am fully dedicated to it. It's about creating value and always having an impact in whatever you do." Beiersdorf is actually one of the world's largest producers of skin care products and adhesives with a sales revenue of around € 7 bilion in 2020. As well as Nivea, its brands include Eucerin, Hansaplast, La Prairie and Labello. Today the company is injecting innovative solutions into its supply chain to catch up and surpass its competitors. Emberger combines this ambition with a realistic approach to create agility and speed in today's uncertain world.
20 | Management: Supply chain planning
Companies with better planning score better on agility and are performing better during the current pandemic. But better planning first requires a horizontal, integrated planning process that shows how changes in supply or demand affect the supply chain. It also calls for a vertical, internal planning process that links long-term planning to day-to-day operational planning. And then at some point, the horizontal and vertical planning must converge.
27 | IT Subway Map
Europe's supply chain software market went through a quiet period in the early phase of the coronavirus pandemic, but we are now seeing a large number of acquisitions, newcomers and collaborative partnerships. According to our own research, this upswing in activity stems from a strong increase in manufacturing and trading companies' willingness to invest, especially in software for sales & operations planning (S&OP) and end-to-end supply chain visibility. The eleventh edition of the SCM IT Subway Map Europe provides a clear overview of the numerous newcomers in supply chain software
32 | Management: E-fulfilment
Fulfilment centres are becoming increasingly complex. The same inventory is often used to fulfil orders in all shapes and sizes, from multiple pallets to single items, and the wide range of customer delivery options and requirements make the operation even more challenging. How are various links in the e-commerce chain keeping their operations manageable?
40 | Mindmap value chain resilience
Since the COVID-19 crisis, every company has had to manage increased uncertainty in both supply and demand. How to deal with this uncertain environment and create competitive advantage in 'the new normal' is one of the key topics in the boardroom. Now more than ever, companies need to be resilient and responsive to unforeseen changes in their business environment; they need 'value chain resilience'. But how can companies go about creating a resilient value chain? Consultancy firm Involvation and Supply Chain Media have designed a mindmap providing a holistic view of value chain resilience and including practical tips.
Further more in this issue:
Take a digital subscription now so you don't miss this issue!