Stress testing uncovers supply chain vulnerabilities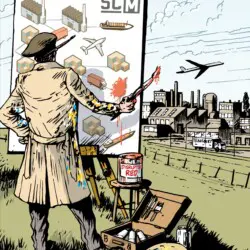 The first step towards a more resilient supply chain is to map it in detail. Next, it is important to identify which parts of the supply chain are most vulnerable. To do this, businesses are increasingly using the approach MIT professor David Simchi-Levi introduced a decade ago. Supported by modern tools, his approach makes it possible to stress test any supply chain.
Since the Russian invasion of Ukraine, access to energy has become a major risk for many supply chains. Confectionery manufacturer Mars is just one company keeping a close eye on the energy market. "Thanks to our sustainability strategy, we have significantly reduced our energy consumption and dependence on fossil fuels in recent years. We are now reaping the benefits of this. Nevertheless, we still use some fossil-based energy, such as in the ovens where we bake the biscuits for our Twix bars," says Martijn Derks, Global Director Supply Chain Resilience at Mars.
At Mars, they are investigating whether they can further increase their use of solar and wind power to make the company less dependent on the electricity grid. At the same time, Mars is looking for alternatives to gas. "What if a gas shortage this winter means that rationing is introduced in the manufacturing industry? We're thinking about dual burners so we could switch from gas to oil. We're also exploring the possibility of using a different type of oven for the Twix biscuits. But these are not solutions we can deploy overnight."
Since March of this year, Derks has been tasked with improving the resilience of Mars' global supply chain to disruptions such as the possible gas shortage. This is a completely new position within Mars Wrigley, the division that produces chocolate, chewing gum and confectionery. "In recent years, we have seen volatility increase significantly and we're convinced that it is here to stay for a while. That's why we want to make our supply chains even more resilient so that we can ensure continuity," Derks says. … … …
Want to read more?