SCM Directors Club workshop underlines importance of scenario planning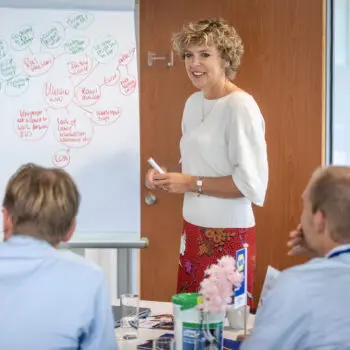 If China attacks Taiwan tomorrow, what consequences will that have for your supply chain? And how will you respond? This is one example of the scenarios examined by the SCM Directors Club members during the recent scenario planning workshop held at Alliance Automotive in Ede, the world's largest distributor of automotive parts. "Scenario planning helped us enormously," said host Ardjan van der Blonk. "It enabled us to anticipate and respond to an impending parts shortage during COVID-19, and thus expand our market share."
By Harms Beerens
"This is going to be the most important workshop of the year for you," stated Martijn Lofvers, Editor-in-chief and Trendwatcher at Supply Chain Media, during his welcome speech. "Today you are going to learn to think differently, in a way that is key to survival in this unprecedented storm in which we find ourselves." His presentation included a visualization of today's major supply chain challenges and their knock-on effects on energy prices, raw material shortages, inflation and staff shortages. "Many supply chain directors are busy fighting fires, when what they really should be doing is stepping back and analysing where all this is leading. Which tectonic plates lie beneath these developments, and how will they shift in the future?"
At the start of the workshop, Lofvers recommended a number of tools, models and books on scenario planning to help the participants develop the necessary new way of thinking. One name he emphasized in particular was that of supply chain guru David Simchi-Levi. "His Risk Exposure Index shows how you can systematically map and financially quantify risks in your supply chain. By weighing these up against the investments you have to make to protect yourself against those risks, you can make the right trade-off decisions."
Another of his tips was to engage in 'business war gaming', preferably at board level, to play out your company's plan of action in case something changes somewhere in the world. Lofvers: "This can range from a concrete issue such as a trade war between Europe and China, to a scenario in which the sea level rises so quickly that half of the Netherlands is flooded. I know this sounds dystopian, but some experts say this could actually be a real possibility by 2050. Companies that think about this now can benefit from a huge head start later."
Reallocating stock based on turnover rate
Ardjan van der Blonk (pictured), Supply Chain Director at Alliance Automotive, outlined how the company is preparing for future developments. As a major omnichannel player in the automotive aftermarket, it has to ensure that local sales offices, garage owners and consumers receive precisely the right vehicle parts every day. The huge range of over 200,000 SKUs makes it extremely challenging to hold the right amount of stock of each item in the right place – centrally, regionally and locally. "A car that is on the bridge in the morning has to be repaired the same day. Spare parts have to be there as soon as possible, within a few hours, but you can't keep the entire range in stock at every local branch," he said.
Alliance has perfected the art of continuously reallocating stock based on the turnover rate. "It requires the constant balancing of three drivers: delivery performance, working capital and costs," continued Van der Blonk. One risk factor that could currently affect Alliance's delivery performance is the shortage of raw materials at suppliers. "To monitor which items might be affected by this in the future, we keep a close eye on the relevant European Commission reports, among other things. If you see that the demand for a certain raw material is going to increase tenfold, then you can expect it to become difficult to buy spare parts containing that raw material in the future. In that case, you have to talk to your suppliers. During the pandemic, we spotted the risk of this happening with a particular type of spark plug. We acted quickly to create a buffer and so were able to avoid any inconvenience for our customers."
Getting started with scenario planning
After taking a tour of Alliance's warehouse, the participants themselves set to work on scenario planning. They were asked to think up a fictitious event that would have a huge impact on their supply chain. "A ban on fishing in the Indian Ocean would be an absolute doomsday scenario for us," said Marcel van der Lee from canned foods manufacturer Princes. "Much of our canned tuna comes from there and many of our factories are based on the island of Mauritius." He needed more time to think about how to prepare for such a dramatic scenario. Another task required the participants to put themselves in their biggest competitor's shoes and think about how they could destroy their existing company as quickly as possible – and then to come up with countermeasures.
The third exercise helped them to think in terms of scenarios and analyse the potential secondary and tertiary consequences of an event. COVID-19 led to a cascade of consequences which in turn each had major knock-on effects, such as the lockdowns, the delivery problems, price inflation and, ultimately, a recession in some countries. When participants were asked to apply a similar thought process to the Russian invasion of Ukraine, it resulted in some striking revelations. "Our sales figures show that more chocolate is being consumed in Poland," said Edith van Erp-Slot of Mars (pictured above). "We didn't foresee this initially, but it's because Polish families have taken in large numbers of Ukrainian refugees."
Van der Blonk mentioned another unexpected side effect of the war in Ukraine in connection with the availability of labour. "At one point, we had as many as 20 vacancies here in Ede. Then we came into contact with the registration centre for Ukrainian refugees in Harskamp. We now have 20 Ukrainians in permanent employment, which suits both sides very well. There is a very terrible reason for this overall situation, but this specific consequence has worked in our favour."
A strategic plan as the basis for fire-fighting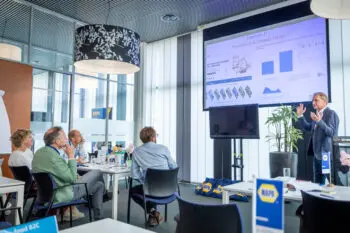 Major events can have all kinds of consequences that supply chain directors need to be aware of. Scenario planning, risk analysis and business war gaming can help them to arrive at strategic insights and innovative ideas. "The challenge lies in thinking about long-term scenarios yet acting quickly," said Lofvers when wrapping up the workshop. "Translating the strategy into operational decisions normally takes companies a lot of time, but that's one thing they don't have nowadays. Some events, such as a factory shutdown, call for an immediate response." That can still be seen as fire-fighting, but it's based on a strategic plan and previously prepared scenarios – and that's what makes a big difference for companies.