COVID-19 has accelerated the call for visibility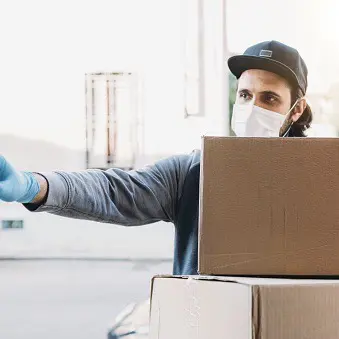 If there is one thing the COVID-19 outbreak has taught us, it is the importance of supply chain visibility. If you have access to real-time arrival time data, you only have to focus on deviations. But an online event organized by French supply chain visibility specialist Shippeo on 12 November underlined that visibility is about more than just collecting real-time data. "It's important to learn from it and to continuously optimize the supply chain," according to Gartner's Bart De Muynck.
By Marcel te Lindert
The analytics from Shippeo's database say it all: in the weeks after large parts of Europe entered lockdown, 43% of deliveries to retail distribution centres were delayed. The waiting time for trucks at those distribution centres increased by 35%, which no doubt caused disruption elsewhere in the chain too. "Visibility was important, both during the crisis weeks and in the subsequent recovery period," said Lucien Besse, COO of Shippeo.
The statistics about Shippeo itself illustrate just how great the need for visibility was. The number of employees has doubled to 140 people in the space of 12 months, with 30 new hires during the first coronavirus wave alone. Half of the 140-strong workforce are involved in research & development. "The pandemic has accelerated the need for companies to digitalize their supply chains. In turn, this has accelerated our own company's growth," commented CEO Pierre Khoury.
Visibility is a challenge
Bart De Muynck of analyst firm Gartner confirmed that visibility is a challenge. In a previous Gartner survey, supply chain professionals ranked cost management as the biggest obstacle to achieving their goals, scoring 37%. Visibility came fifth with 25%. "You can't have one without the other," stated De Muynck. "Visibility provides the insight that supply chain professionals need to make the right decisions and keep control of costs. You can't reduce costs if you don't know what's causing them to rise."
In a more recent study, Gartner asked which competencies are necessary to deal with disruptions such as COVID-19. Predictive analytics came out top, but real-time alerts about supply chain disruptions scored highly too. "Supply chain visibility software gives you these competencies," said De Muynck. "By investing in such software, companies lay the foundation for smart, data-driven decision-making processes."
Four hurdles
Before they can achieve that, they first have to overcome four hurdles. The first is real-time end-to-end supply chain visibility. Most companies still have gaps in their visibility layer. "And if they do have full visibility, they often lack the ability to interpret the data. It's important to detect anomalies and act on them. After all, visibility is not only important for solving operational problems, but also for learning from them and for continuously optimizing the supply chain," explained De Muynck.
Access to real-time data was crucial during the first wave of the coronavirus outbreak. "Many shippers complained about the lack of clarity on their situation. Conflicting messages on social media made their employees nervous. But shippers who had access to real-time data could reassure their people and get them to focus on the deviations."
Autonomous supply chain
During the online event, various companies discussed the benefits of visibility for their own organization. ThyssenKrupp uses Shippeo's solution to keep its customers informed about delays. "That's important, but we don't expect our customers to pay extra for that information. Therefore, we also use the solution to calculate how many kilometres our carriers drive and hence should charge us, and we use that information to check the carriers' invoices. This has helped us to achieve a payback period of less than a year," said Nicolas Guillet, CEO of ThyssenKrupp Materials France.
Fressnapf uses the software to monitor deliveries to its 1,500 pet supplies stores. "Shippeo's estimated times of arrival enable us to take immediate action to avoid delays. For example, we can put a container on a truck instead of a barge. This is particularly crucial for promotional items. The worst thing that can happen to us is that shoppers come to our stores for special offers, only to find that they are out of stock," said Mattias Wenzel, Head of Supply Chain Management at Fressnapf. "Ultimately, we want to use the ETA information to identify deviations and make decisions automatically. That's when we will have achieved our goal: a transparent, reliable supply chain – and not only in normal times, but also in challenging times like the ones we are experiencing now."
Supply chain workflow
Shippeo's software does not yet support fully autonomous supply chains, but the company is developing new functionality that takes it a step in the right direction, such as by facilitating collaboration with partners elsewhere in the chain. If disruption occurs and different chain partners have to take action, a workflow procedure is set in motion. "This will not only ensure that everyone involved is informed, but will also feed the workflow outcome – such as an extra cost item, a fine or a new ETA or time window – directly into the various systems," explained Maxime Lambert, Senior Solutions Consultant at Shippeo.
De Muynck had a couple more tips for making a visibility project a success: "Start with the visibility strategy. What exactly is the scope? What is the top priority – the inbound or the outbound supply chain? And which regions should you start with? Keep in mind that end-to-end supply chain visibility can't be achieved overnight. In addition, it's important to safeguard the data quality – and that doesn't just mean whether the data is accurate, but also whether it's complete, accessible and available at the right time. Accurate ETAs are impossible without high-quality data."