'Cobots' alongside order pickers in Dutch warehouse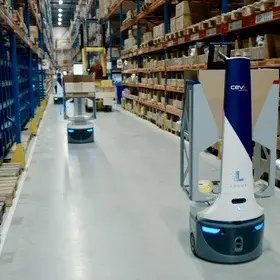 Order pickers at a Ceva Logistics warehouse in the Netherlands have recently started working alongside a fleet of robots. The logistics service provider refers to them as 'cobots' to emphasize that the robots collaborate with their human colleagues.
Ceva Logistics is a full-service transport and logistics company offering freight management and logistics services across more than a thousand facilities in 160 countries. Ceva regards the deployment of cobots as the next major breakthrough in robotics and a key enabler of future growth.
Maximizing output
Locus Robotics has supplied Ceva with 15 cobots to work directly alongside order pickers as a way of maximizing the output. The use of cobots greatly reduces the amount of walking and heavy lifting the order pickers are required to do in the warehouse.
"Innovation is something that we're not yet recognized for," comments Bart Beeks, Head of the North Europe cluster at Ceva Logistics. "But five years from now we want our people, our new recruits – and also the competition and industry – to say Ceva takes care of its people, does really well in lean and is really driving innovation."
Cobots integrated with the WMS
The Locus cobots are flexible, scalable and fully integrated with Ceva's warehouse management system (WMS), which the company claims guarantees maximum pick output.
Click here to watch a video of the cobot deployment at Ceva.