Second edition handbook proves growth of supply chain start-ups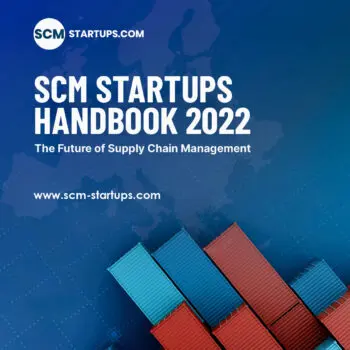 The 2nd edition of The Supply Chain Management Startups Handbook is now available. Launched earlier this month, this year's handbook presents profiles of more than 340 supply chain start-ups that can help to tackle supply chain challenges and contribute to innovation. The publication also includes valuable insights from leading industry experts.
If you are looking for a comprehensive overview of the European logistics and supply chain management start-up ecosystem, look no further than The SCM Startups Handbook 2022. Besides profiles of more than 340 start-ups covering more than 15 market segments across 27 European countries, it features 12 insightful articles from leading industry experts on trends and technologies in supply chain management, including a contribution by Supply Chain Media's Martijn Lofvers on how supply chain start-ups are riding the investment wave.
Source of innovation and change to tackle challenges
The handbook is the brainchild of Mathias Bosse, who is also a jury member for Supply Chain Media's European Supply Chain Start-up Contest. "Supply chains around the world are under immense pressure to transform into more transparent, more resilient and more sustainable value chains. Start-ups are the main source of innovation and change that help to tackle these challenges," he states. "The Supply Chain Management Startups Handbook 2022 is a comprehensive guide through the landscape of supply chain start-ups and will help you to discover cutting-edge technology and business model innovations."
Two versions of the handbook
The SCM Startups Handbook is available in two versions: a 'light' version and a 'full' version. The 'light' version is available for free and includes all the valuable insights plus a short company profile with a basic overview of each start-up. The 'full' version costs €499 incl. VAT and includes all the expert content plus detailed company profiles including description, USPs, reference customers, company data as well contact data for the start-ups.
Both versions are available for download here: https://scm-startups.com/scm-startups-handbook-2022. Use the code SCM25 for a 25% discount on the regular sales price of the 'full' version.