Two free truck monitoring solutions for use during coronavirus crisis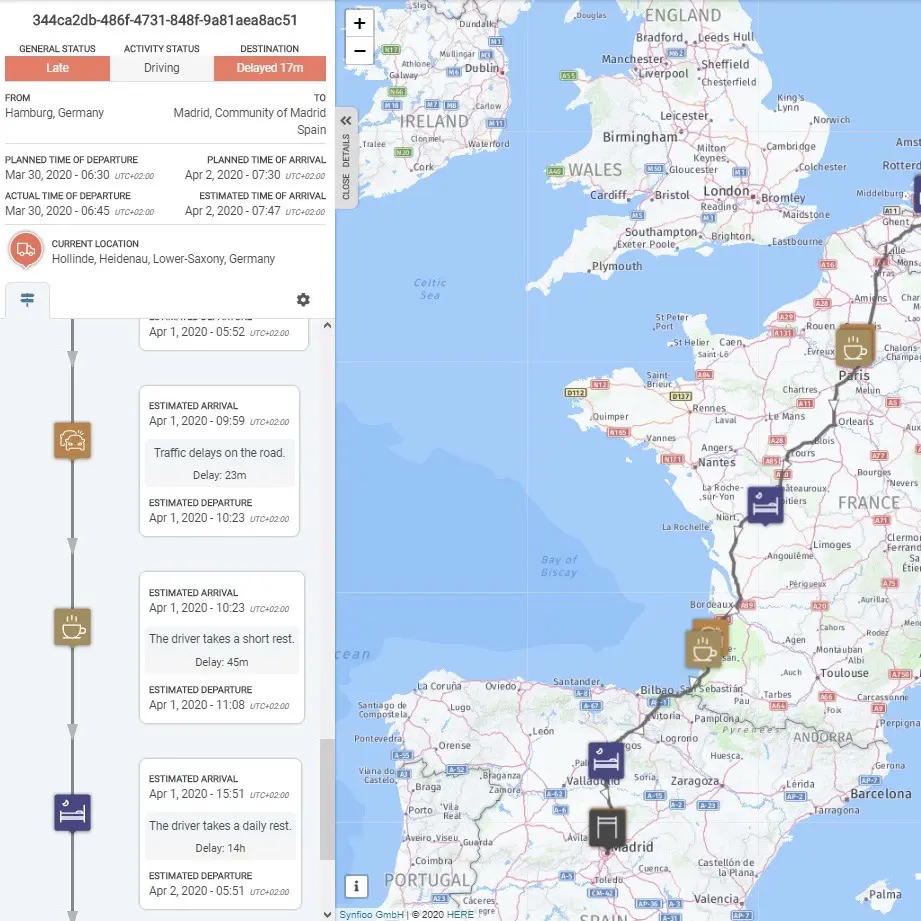 During the coronavirus crisis, supply chain visibility is extremely important for all links in the chain. Truck monitoring can play a valuable role in transparency, which is why the German start-up Synfioo is offering a three-month free trial for its OnTime Navigator solution. Likewise, the French scale-up Everysens is showing its solidarity with the industry by providing two months of free access to a launch version of its transport visibility platform.
The transport management application by Synfioo (pictured) allows the retrieval of predictions about the estimated time of arrival (ETA) of trucks from any computer, as well as access to data about all the movements and disruptions along the route. As a result, the information from OnTime Navigator enables the people involved to better react to unexpected developments in the transport process during the coronavirus crisis.
Security of supply is an important commodity
"Security of supply is currently a very important commodity," says Marian Pufahl, CEO of Synfioo. "Only those who have correct data on the position of the trucks and the disruptions ahead can make the right decisions for the further course of the transports. The same applies to precise arrival time predictions for raw materials and semi-finished materials, which have a major influence on the demand-oriented design of production processes."
In addition to ETA predictions as well as disturbance and motion data, OnTime Navigator offers a detailed map view that allows the status quo to be visualized in real time. With this tool, especially small and medium-sized freight forwarders that do not have their own IT infrastructure in this field can access all relevant information. The carriers can also share reliable data on the transport process with shippers and the recipients of the goods without complicated entry barriers.
Anyone interested in this truck monitoring solution can find more details on the Synfioo homepage. The first three months are free for customers who register by 30 April, and the subscription can be cancelled at any time within that period.
Everysens transport management solution
Everysens is offering a similar initiative in the shape of a two-month free trial period of a launch version of its transport visibility platform. The version includes a set of real-time functionalities to simplify truck deployment and facilitate quick returns without changing any processes. This ensures the continuity of operations so that a high level of service can be maintained.
To benefit from this offer, simply fill out the form on the Everysens website to launch the account activation.