Supply chain scale-up in the spotlight: Budbee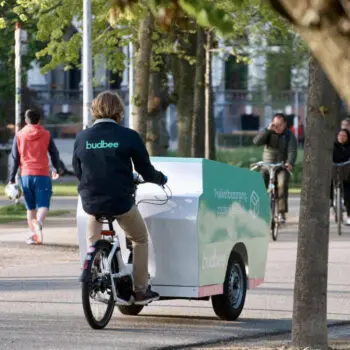 Budbee is a dynamic, fast-growing tech scale-up that is striving to offer the greenest, smoothest and most precise e-commerce delivery service on the market. It was founded in Stockholm, Sweden, by Fredrik Hamilton (CEO) in 2015. The logtech company is committed to maximizing customer satisfaction and efficiency of the 'last mile'.
The user-friendly Budbee app gives customers control over the delivery experience and enables them to track deliveries in real time and specify their personal preferences. For example, users can indicate when they want their parcel to be delivered (including in the evening), and how the driver should alert them upon arrival (e.g. knock on the door, ring the bell or just leave the parcel on the doorstep). Additionally, the company offers a smart delivery service where the package is left in the Budbee Box of the customer's choice. The customer can then use a PIN code and pick it up at a suitable time.
Budbee aims to deliver parcels completely fossil-free and 100% climate-compensated. To achieve this goal, the company combines deliveries on cargo bicycles, electric vehicles, the use of green gas and vehicles fuelled with recycled vegetable oil. The company currently has over 300 employees and has already provided innovative and personalized delivery services to more than 25 million people across Sweden, Denmark, Finland, the Netherlands (since 2019) and Belgium (since 2021).
Further international expansion
Budbee's services are used by hundreds of large companies including Asos, Zalando and H&M. Budbee raised €52 million in funding in January 2021, taking the total funding to date to €92 million. The company will use the funding for further international expansion, including in Luxembourg, and to invest in technology and processes that will further enhance the sustainability aspects and customer experience of its services.