MediaMarkt makes its same-day deliveries more sustainable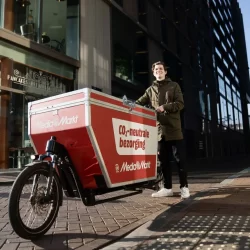 Consumer electronics retailer MediaMarkt has chosen the Bringly platform to deliver its online orders on the same day and carbon-neutrally. The orders will be delivered by bicycle or electric cars from MediaMarkt's stores and various hubs.
The cooperation with Bringly is aligned with MediaMarkt's aim of improving the sustainability of its own processes. It also ties in with the group's omnichannel proposition, entailing the further optimization of both the online and offline customer experience. The delivery service has started in the Netherlands (49 stores) and is expected to be rolled out to Belgium (24 stores) later this year.
"Sustainability plays an important role in our strategy. The cooperation with Bringly helps us to realize this in the Benelux region," comments Pieter Odijk, Supply Chain Director of MediaMarkt Benelux. Reducing CO2 emissions in the last mile is an important step, he says. "This collaborative partnership enables us to further integrate our online and offline channels, as well as to improve the sustainability of our deliveries and to reduce traffic in and around urban areas," adds Odijk.
Platform
The Bringly platform offers retailers and web shops in Europe a same-day delivery solution that is also sustainable. By optimizing the available delivery capacity of couriers at local level, parcels can be delivered quickly and sustainably from shops, dark stores and centralized distribution centres. Bringly's scalable technology makes it possible to respond seamlessly to the wants and needs of MediaMarkt and its customers, according to Managing Director Rajiv Laigsingh.