H&M launches click & collect service with Budbee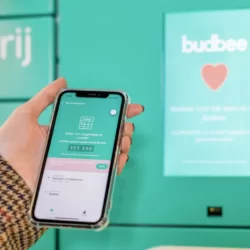 Swedish fashion group H&M has introduced its own click & collect service in the Netherlands. It is the result of a partnership with the Swedish technology company Budbee, which has designed the new click & collect system especially for H&M. Besides in the Netherlands, this service will also be offered in Sweden, Denmark and Finland.
From the end of November onwards, a Budbee Box will be available at 13 Dutch H&M stores. The box enables customers to collect and return parcels at any time, in a single central location and without staff intervention. For H&M – which is seeing continued growth in home delivery – the boxes will help the retailer to expand its delivery options, offer customers more convenience and address issues such as traffic congestion and environmental pollution.
H&M has been working with Budbee for home deliveries for some time, so the click & collect service is an extension of their partnership. A Budbee Box can hold a total of 60 parcels, meaning that a courier only has to deliver to one address instead of 60. There are currently approximately 500 Budbee Box locations in the Netherlands, and around 50 new boxes are being added each week. In addition to H&M, some branches of Ekoplaza and Marqt are already using Budbee Boxes in the Netherlands.
Fossil-free deliveries
Thanks to its tailor-made algorithms and self-learning systems, Budbee can deliver parcels efficiently, with an 98% first-attempt success rate. Moreover, Budbee Box deliveries are 100% fossil-free. Since being launched in Sweden, Denmark and Finland in 2020, the concept has received extremely positive feedback from e-tailers and logistics partners alike, and consumers award the service an average rating of 4.7 out of 5. More than 2,000 Budbee Boxes have been set up in Europe so far.