Shoeby pursues flexible shipping strategy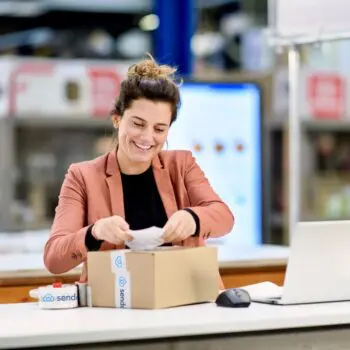 Retailer Shoeby is collaborating with shipping platform Sendcloud to take the consumer delivery experience to the next level. An exclusive partnership between Divide, an omnichannel e-commerce platform for retail organizations, and Sendcloud will make it easier for Shoeby to sell and ship products through both its web shop and its 240 bricks-and-mortar stores.
Shoeby customers can choose whether to have their orders delivered to them at home or to collect them from one of the fashion chain's stores. The stores, which are also DHL service points, function as mini-warehouses. This creates a complex logistical challenge, but Divide has developed a suitable solution that aligns the inventory management between the warehouse and the various stores so that online and offline orders can coexist smoothly.
"This system works really well, but we realized that we could still make more gains on our shipments," says Adrie Kappen, Project & Process Improvement Manager at Shoeby. "So in conjunction with Divide, we went in search of a shipping platform that would help us to optimize the shipping process." This led to the decision for Sendcloud.
Taking customer communication to the next level
For e-commerce players – and therefore also for Shoeby – it is very important to maintain a high order-picking speed and to minimize the chance of errors. In the case of Sendcloud, automated software ensures that shipping systems are linked together for process efficiency and effectiveness. In addition, it takes customer communication to the next level, since the consumer receives a personalized update at every step of the shipping process.
"Shoeby also works with a set-up for the home delivery of orders which decides whether the order should be sent from the warehouse or from one of the stores. The challenge here is that order picking is done both in the warehouse and in the stores, so the shipping labels must be easy for all employees to print out. In practice, this is always more time-consuming than expected. Setting up this process efficiently saves time and money," comments Rob van den Heuvel, CEO of Sendcloud.
Fast label printing
"Before we started working with Divide and Sendcloud, it took us 25 seconds to print a label in our warehouse. Packing an order takes an average of 10 seconds, which left us waiting 15 seconds for the label to be printed. Thanks to the Sendcloud integration, it now takes just nine seconds to print a label. Multiply this saving by hundreds of thousands of orders, and you can see how much time this saves us. It has already amounted to one FTE," adds Kappen.