Mindmap for Fulfilment Automation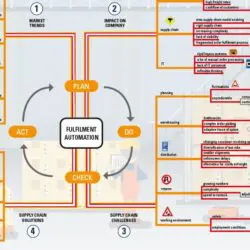 In this age of immediacy, a company needs a customer-centric fulfilment strategy that allows for fluidity of workflows, functionality and operations. GreyOrange, a global technology company unifying AI-driven software and mobile robotics, and Supply Chain Movement have developed a mindmap for distributed fulfilment execution to improve service to customers.
Mindmap manual
Market trends – In today's uncertain, post-COVID-19 world, there has been unprecedented growth in online shopping, while physical retail goes through ups and downs due to frequent lockdown periods. Social distancing rules, enhanced convenience from e-commerce giants such as Amazon and the shortage of skilled labour have forced brick-and-mortar retailers to either close temporarily or re-evaluate their fulfilment modes.
Impact – The pandemic has clearly exposed the weaknesses and rigidity of the traditional warehouse model, and retailers are now being challenged to think about supply as a network of nodes rather than a sequential 'chain'. Companies often see the necessary investment as a barrier and find it difficult to know where and how to start. In the new reality, however, a robotic warehouse system could be up and running in just a few months and could be paid for on a subscription basis rather than as a capital investment.
Challenges – Today's stores and fulfilment centers are overwhelmed with various lacklustre warehouse management system (WMS) applications. Most standard WMS applications limit the scope of flexibility and compatibility when adapting to the company's unique needs. Moreover, new functionalities and customized changes dramatically increase overhead costs and lead time. Many companies are insufficiently prepared when embarking on their automation journey, failing to fully understand the considerations behind their choice of technology. Choosing a flexible, interoperable, frictionless solution can help them adapt to challenges in a cost-effective manner.
Solutions – A 'right-fit' fulfilment approach brings together different nodes – plus the 'multi-agent' combination of robots and people – into one cohesive system. This can be challenging when it comes to worker safety and sustainability. Predictable cost management and agility to adapt can be achieved by keeping customers at the heart of the company's fulfilment strategy and by leveraging existing resources through responsive automation and robotics.
Download the full mindmap
Fill in the contact form below and get the full mindmap in your mailbox for free.
Download:
Mindmap for Fulfilment Automation