Manufacturers want to reshore but are wary of the problems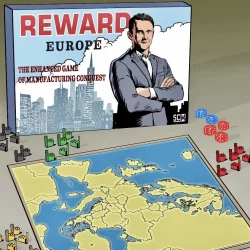 As many as 60% of manufacturing companies are considering bringing their production activities back to Europe or North America, according to a study by BCI Global and Supply Chain Media. However, reshoring is far from simple, if the experiences of e-bike manufacturer Qwic and consumer products company Newell Brands are anything to go by. For Qwic, delivery times rose to as many as 700 days during the pandemic.
By Marcel te Lindert
Is the era of global, complex supply chains over? That's the question that senior executives are expecting supply chain professionals to answer. "The reshoring debate was revived when Donald Trump imposed high import tariffs immediately after taking office as president of the United States. The global pandemic has further fuelled the discussion," said Patrick Haex, Managing Partner of consultancy BCI Global, during a recent Supply Chain Media Webinar Wednesday.
Decoupling from China
The reshoring discussion moved beyond supply chain costs along a long time ago. Other issues have become at least as important, such as the risk of disruptions, the carbon footprint and the speed of delivery. "Sometimes geopolitical considerations play a role and businesses want to decouple their supply chains from China. Or perhaps companies need to protect their intellectual property better," Haex stated.
In the survey, BCI Global and Supply Chain Media asked a total of 125 supply chain leaders from around the world about reshoring. As many as 60% are considering bringing some of their manufacturing operations back to their own region (reshoring) or even to their own country (onshoring) within the next three years. In Europe, the Czech Republic, Germany and Poland are in demand as new production locations; in North America, it is mainly the United States and Mexico.
Agility and flexibility
The reshoring trend cannot be viewed in isolation from the supply chain strategy, which is also undergoing considerable change according to the survey. So far, most companies have been focused on efficiency and low costs, but over the next three years that focus will shift to agility and flexibility. "Most businesses considering reshoring don't intend to move everything out of China," explained Haex. "Often it's only a small part of their volumes, such as customer-specific products or critical parts."
But reshoring is easier said than done. 38% of respondents expect to lose out on economies of scale and to see a rise in their operational costs. "For example, companies who currently manufacture products in a single location in China might have to spread them across several production sites in multiple regions. Another major barrier is the lack of a good supplier base in the region. Can you find the suppliers you need there? What's the point of reshoring to Europe if all your suppliers are still in China?"
Preventing revenue loss
That question is something Dutch e-bike manufacturer Qwic struggled with when it decided to move production from China to Portugal and Bulgaria in 2016. "That was mainly due to the anti-dumping measures," commented COO Egemen Tumturk to René Buck, CEO of BCI Global. "That's why we moved the last part of the supply chain – the manufacturing – to Europe. But our component suppliers didn't move with us."
That led to problems following the COVID-19 outbreak. Due to disruptions in international supply chains, Qwic saw delivery times rise to a wholly unacceptable 700 days. Tumturk: "So we started moving our parts production to Europe in the late 2020s, and this has given us a significant competitive advantage. If we hadn't built up a network of Tier 2 and Tier 3 suppliers in Europe, we would have suffered a 40% revenue loss. But unlike other bicycle manufacturers, we were able to continue to supply our customers. That has led to more trust and better customer relationships."
Total cost focus
According to Tumturk, reshoring has not resulted in higher costs: "Rather than just looking at the costs of purchasing and transport, we consider the supply chain costs as a whole, so including inventory costs, inventory turnover, sustainability and risks. As a result, we saw that reshoring would enable us to design a much more efficient supply chain. We have been able to maintain a good margin to this day, even though we now produce in Europe. To further improve the flexibility and agility of our supply chain, we now want to bring production and distribution in Europe closer together."
Newell Brands also decided to move its production away from China soon after President Trump took office. The American consumer products manufacturer, owner of brands such as Rubbermaid, Dymo and Parker, has 135 manufacturing and distribution sites worldwide. "When Trump announced import tariffs on products from China, we moved some of the activities to Vietnam, India and other countries in Southeast Asia. But when ocean freight rates suddenly skyrocketed a year ago, we wondered whether that had been the right decision," said Matthew Tetro, Vice President of Enterprise Procurement Sourced Finished Goods at Newell Brands.
Capacity issues
Tetro explained that moving production out of China is far from easy. With the help of the West, China has become highly industrialized over the past 40 years, with a supplier base of unrivalled breadth and depth. "China is now a mature market. We know from experience that we can switch to another supplier there within just six to 12 months. But if we move to another Southeast Asian country, it takes much more time, money and resources to get new suppliers ready and able to produce for us."
Tetro added that moving production from China to the USA or Mexico poses different challenges: "In China, there is a whole region where the vast majority of all household appliances are made. In Mexico, there are maybe only three companies that can handle that, so it's a capacity issue rather than a lack of technical skills. Asia is home to half of the world's eight billion population, whereas only half a billion people live in North America so there's much less labour available. That makes reshoring very difficult unless you invest heavily in automation and robotization."