Strong rise predicted in reshoring of critical parts and final assembly to Europe and US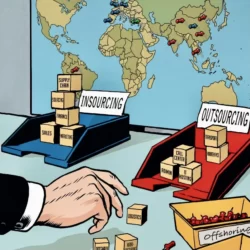 Over 60% of European and US companies expect to reshore some of their production activities from Asia back to Europe or the US over the next three years. In most of these cases it is about limited volumes and/or critical parts and products, but 17% intend to bring back the majority of their Chinese and Asian production capacity. When it comes to Europe, Central and Eastern Europe is in favour for new production locations, especially countries like the Czech Republic, Poland and Hungary. Germany and Benelux countries are also being considered as serious options (by 48% and 38%, respectively). When reshoring production to North America, the US itself is the preferred location, followed by Mexico.
These are the main conclusions from a 'Global Reshoring & Footprint Strategy' survey by Buck Consultants International (BCI) and Supply Chain Media. Supply chain consulting firm BCI has offices in Europe, the US, China and Asia. Supply Chain Media conducts a lot of international editorial research and provides practical tools for supply chain management. The survey was held among supply chain executives from 125 companies (70 from Europe, 40 from the US and 15 from Asia) active in pharma & medtech, machinery & automotive and consumer packaged goods.
Agility and flexibility
"The research results clearly show that reshoring is a hot topic on the agenda in the boardrooms of international companies," comments Patrick Haex, Managing Partner Global Supply Chain Solutions at BCI. "The many supply chain disruptions in the last years, with COVID-19, lack of products and components and skyrocketing ocean freight rates, have forced companies to reconsider their manufacturing footprint. 60% of the companies expect to move part of their China and Asia production back to Europe or the US in the next three years. Agility and flexibility are now the key drivers for the value chain set-up, at the expense of lowest-cost solutions."
However, the process of reshoring to Europe is relatively slow because significant obstacles have to be overcome, explains René Buck, CEO of BCI Global: "Higher operating costs in Europe and the US due to lack of scale and the lack of supplier bases in these regions are major hurdles. We see in our advisory practice every day that this is not an easy decision."
Business strategy is decisive
Martijn Lofvers, Chief Trendwatcher at Supply Chain Media, expects many companies to shift from country-by-country planning to integrated global planning and supply chain organization in the next three years: "Companies with a Product Leadership strategy are looking to reduce product configuration in order to create more volume flexibility. Businesses with a Cost Leadership and Operational Excellence strategy also want more agility, which makes the supply chain more costly. And according to our study, a Customer Intimacy strategy means an even greater focus on faster deliveries than the other two strategies."
Automation and robotization will also receive even more attention in the coming years, according to the respondents, mainly to reduce production costs and cope with labour shortages. The survey showed that highly automated manufacturing processes are set to increase from 18% in 2021 to 47% in 2024, while highly automated distribution centres will grow from 3% in 2021 to 27% in 2024.