Itelligence wins European hackathon with flawless vaccine distribution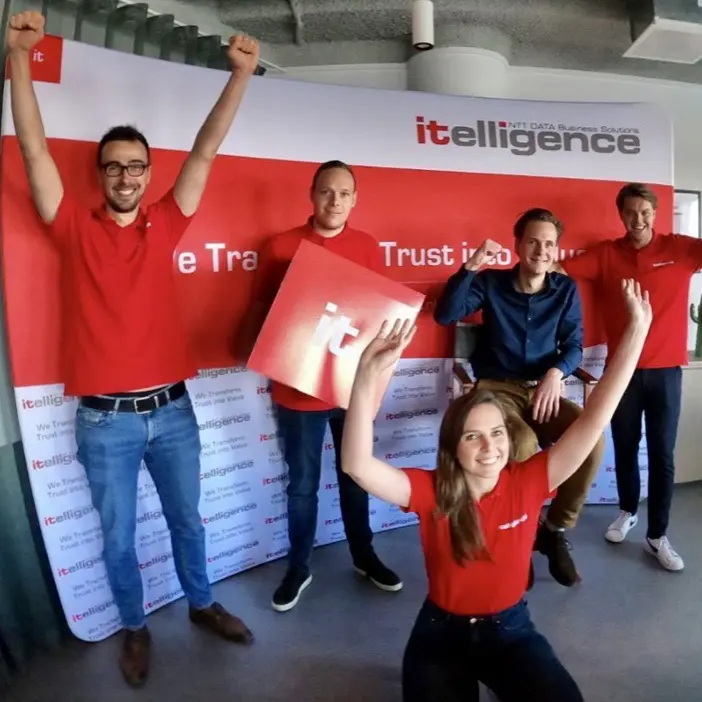 Six talented young coders from the Dutch software consulting company called itelligence have come up with a solution for safely transporting the future COVID-19 vaccine, which will have to be distributed in line with strict temperature requirements. Thanks to their 'robots', this can be done in an extremely controlled way, right down to the smallest details. The solution secured the itelligence team first prize in a European hackathon organized by software giant SAP.
The participants in SAP's Digital Hackathon for Intelligent Robotic Process Automation (IRPA), which was held virtually from 18 to 24 September, came up with some extremely innovative cases. A total of 30 teams were allowed to submit a case, and nine of them were allowed to develop it further. The itelligence Benelux team comprised Pim Clarance, Danny Groothuis, Koen Hendriks, Jason Jokhoe, Ben Rauwerda and Anouk Segers, and they won convincingly with their IRPA cold chain solution. The jury described it as "a relevant case that appeals to the imagination and that will soon be broadly applicable to various industries".
IRPA – based on artificial intelligence and machine learning – helps companies to automate repetitive and manual work. All so-called 'rule-based assignments' can be left to intelligent code, i.e. robots, in the software system. Itelligence is active in the pharmaceutical industry and its technology supports several major players currently working on a COVID-19 vaccine.
The precarious process of transporting vaccines
Therefore, it didn't take long for the team to come up with an idea for the hackathon, explains Danny Groothuis, head of innovation at itelligence: "The development of the vaccine is in its final stage all over the world. Once it enters the market, 800,000 tonnes of the vaccine will have to be distributed worldwide. That will be a huge logistical operation bigger than anything we've ever seen before – not only in terms of time pressure and size, but also because transporting vaccines is a precarious process."
If a batch of vaccines becomes too hot or cold during transport, it has to be written off. These costs can run into millions and delay the work of the healthcare providers who have to administer the vaccines. Moreover, if the temperature fluctuation goes unnoticed, there is the risk of a number of vaccines making it onto the market that pose a potential threat to public health.
Groothuis: "The use of IRPA to automate cold chain logistics processes means that the future coronavirus vaccines will be continuously monitored by a sensor to ensure safe transport. If there are any changes in the conditions during transport, a notification will automatically be sent to the driver, the customer and the pharmaceutical company."
Avoiding delays in the vaccination process
"The sensor continuously measures the temperature to ensure that it remains between minus 18 and minus 70 degrees Celsius. With IRPA we have built in a warning protocol to issue an alert when the temperature exceeds the acceptable limits, of course, but also when it is becoming critical. In that case, the driver receives a text message and can save a batch by driving to the nearest refrigerated warehouse. We can also automate suggestions for specific warehouses based on location data," says Groothuis.
If a batch has been compromised, an e-mail is automatically sent to the production company so that a new shipment can be dispatched immediately to avoid delays in the vaccination programme. Groothuis: "At the same time, the blockchain technology blacklists the compromised batch. As soon as it arrives with the healthcare provider, they receive a notification to remove it from the shipment. This ensures that patient safety is guaranteed."
Applicable in any logistics process
The SAP jury was impressed by the itelligence team's robots – not only because they are quickly deployable and add considerable value to the logistics operation lying ahead of those developing a coronavirus vaccine, but also because the IRPA solution can be applied in literally any logistics process.
"For every problem in the supply chain, we can add a robot to the process that automatically overcomes that problem and provides a solution. From registering a damaged box and immediately sending an insurance form to the driver, to issuing a pick-up order so that a batch of compromised vaccines never reaches the customer," says Groothuis.
According to Groothuis, the best thing about this supply chain automation solution is that it's extremely marketable. "And that's exactly what we're going to work on now. Before the end of the year, we want to have this idea ready in the form of a standardized IRPA framework for companies – just in time for pharmaceutical companies to benefit from it when transporting coronavirus vaccines," he concludes.