Choose the S&OP software that suits your planners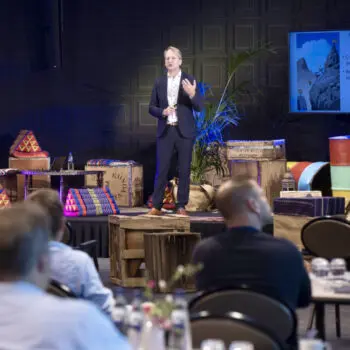 There is a huge and diverse range of sales & operations planning (S&OP) software to choose from, and it can be tempting to go for the fanciest tools featuring innovative technologies such as artificial intelligence and machine learning. During the recent S&OP Vendor Day, Martijn Lofvers from Supply Chain Media and Johan Smits from KPMG advised attendees to be realistic: choose the software that suits your own organization and future business models.
By Marcel te Lindert
The process to select sales & operations planning software can be likened to buying a new car. "And you don't buy a car purely based on its specifications; you take it for a test drive too," said Martijn Lofvers (photo), Chief Trendwatcher at Supply Chain Media. He kicked off the first-ever S&OP Vendor Day with a series of recommendations for companies looking for new software. One key piece of advice was to test-drive the software, just as you would if buying a car: "Don't rely on a PowerPoint presentation; ask for a live demo that's focused on your industry. Or, even better, run a pilot. Ask the vendor if you can try out the software for free for a month."
As Supply Chain Media's IT Subway Map shows, the S&OP software landscape is vast and diverse. Many companies focus mainly on the functionality offered, but Lofvers listed three other aspects that deserve attention. "Consider the technology. Does the software run on your premises or in the cloud? How was the software developed and what does the roadmap look like? Another aspect is implementation. Does the vendor have the right implementation partners in the right places? Do those partners have experience in your industry? And the final aspect is knowledge: where does the vendor get its experts from?" he said.
Crashing a new Lamborghini
The vendors featured on the IT Subway Map are established names with proven technology, so those vendors are a safe choice. "But the market also has disruptors: start-ups with innovative solutions. The question is whether your organization is ready for them. Be aware of the risks involved in working with a start-up. Are you prepared to take them?" continued Lofvers. He went on to highlight the relevance of business maturity by displaying a photo of a sports car wrapped around a lamp post. "We've all heard stories of young guys who crash almost immediately after setting off in their new Lamborghini. Their driving behaviour is immature and they can't handle the speed. In other words, it's important to measure your organization's maturity and then choose the software that suits your organization and your planners."
That point was echoed by Johan Smits (photo right), who led the S&OP implementation at Heineken for ten years and is now a partner at consultancy firm KPMG. He advised the attendees to think about the future organization as well as at the current one. How will the business models of the future look? Will manufacturers be selling directly to consumers, or be providing services instead of products? "New business models will have a big impact on supply chain design," said Smits, backing up his statement with recent research by KPMG. "Three quarters of CEOs want to invest more in digital technology. According to some, the pandemic has forced them to accelerate their digitalization agenda by three to four years."
Centralized vs. decentralized planning
The new S&OP software must support the supply chain of the future. "What will be the supply chain control model in the future? Will a centralized or decentralized planning process be better for the supply chain? Or perhaps planning-as-a-service will be an option," asked Smits. Referring to Heineken's decentralized organizational structure, he explained that the local organizations in the local markets all had their own S&OP competencies. "But it would have been too expensive to give all the local organizations their own tools, so we looked at which planning activities we could centralize. Statistical forecasting lends itself perfectly to this – unlike production scheduling, which can't be done remotely."
Like Lofvers, Smits emphasized the importance of considering the organization's maturity. Heineken used a checklist of 200 questions to assess the maturity of each business unit. That provided insight into the current status and the necessary steps to reach the desired situation. "One very important lesson learned related to coaching for the organization's leaders. Many senior managers don't understand the impact of S&OP on their team, yet these managers are the ones who have to lead the change and take ownership. So you have to actively coach them."
Supplier discounts
S&OP implementation is a lengthy and complex process but well worth the effort, as Smits underlined based on his experiences at Heineken: "The biggest gain lay in the discounts we received from our suppliers because we were able to give them much more reliable forecasts than before. But Heineken's salesforce become convinced of the benefits too; they saw that better planning leads to fewer out of stocks and therefore more turnover. So is there a business case for S&OP? Definitely!"
Download Martijn Lofvers' slides and Johan Smits' slides here!