Software decision should depend on maturity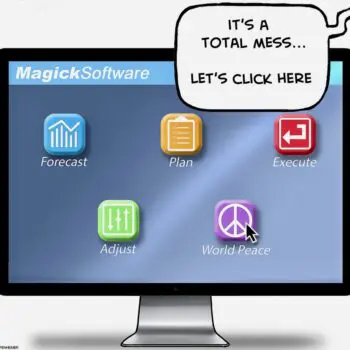 Due to the COVID-19 pandemic, supply chain management is at the top of the management board's priority list, second only to employee safety. Most companies have been hit hard on both the supply side and the demand side, and have discovered that their software systems aren't actually able to cope. As a result, according to our own survey of 106 European supply chain directors conducted in June this year, 45% of manufacturing companies in Europe intend to invest in sales & operations planning (S&OP) applications over the next 12 months.
One of the key problems is that companies are keen to get their search underway quickly, but they don't really know what to look for and where. The situation is further complicated by the fact that different software vendors use different names for similar solutions. Besides S&OP, there is also software for integrated business planning (IBP) and connected planning. Sometimes it is all grouped together under the umbrella term 'enterprise planning', which could potentially be confused with enterprise resource planning (ERP), which is software for order administration rather than for intelligent integrated supply chain planning.
End-to-end supply chain visibility came second in the survey after S&OP, with two-fifths of the manufacturers planning to invest in such a solution over the next year. The major problem here is that many companies do not have a clear idea of the level of visibility required. Do they want visibility into the location of physical goods (raw materials, semi-finished products, packaging and end products) and the expected arrival times during transport? Or is there a need for insight into suppliers' capacity levels and for better forecasts, both within their own company and for the sales channels? Or do they lack visibility at the strategic finance level of order-to-cash and the vulnerability in the entire chain? Without a clear answer to this, it's impossible to successfully find a software solution for end-to-end supply chain visibility. Does a company want just a portal for suppliers, or a complete software suite for end-to-end supply chain visibility?
Magic Quadrant
Many companies searching for a suitable software solution make the major mistake of focusing mainly on the functions and features of applications. This usually leads to an ever-increasing list of desired functionalities in a Request For Proposal (RFP), which is then sent as an endless spreadsheet to a fairly random list of software vendors they know.
Some companies reach for one of analyst firm Gartner's many Magic Quadrants showing the positioning of software vendors that have been willing to pay for inclusion. What many firms don't realize is that the matrix does not provide a complete overview of all vendors, and actually wasn't originally intended to support software selection at all. Instead, Gartner created the Magic Quadrant to allow participating software to benchmark themselves in terms of vision and execution as the basis for improvements.
Short-sighted use of a Magic Quadrant can be a recipe for disaster. A few years ago, one European food manufacturer decided to invite the five software vendors in the leadership quadrant of a Magic Quadrant for Supply Chain Planning to present their solutions. After six very intensive months of numerous discussions and pitches, it turned out that three of the software vendors were a complete mismatch with the company. Additional market research revealed that a software vendor which Gartner listed as a 'challenger' and one that was completely omitted from the matrix were a much better fit.
To ensure a thorough software selection process, it's crucial to consult as many independent sources as possible. For example, Supply Chain Media's IT Subway Map provides a comprehensive and independent (i.e. non-paid) overview of most of the software vendors that have already proven themselves with successful implementations in the European market. Over the past few years, several websites have also emerged that rate software vendors, but these overviews are very unreliable, unclear in terms of geographical focus and their assessment criteria, and far from exhaustive.
The best references for software vendors come from trusted peers. According to our survey, just over half of the respondents regard input from colleagues and fellow professionals at other companies as the most important source of information when selecting supply chain software. Analyst firms and specialized supply chain consulting firms followed, scoring 39% and 38% respectively, but you sometimes have to pay heavily for their advice, whereas requesting references from software vendors costs you nothing.
Maturity
Out of all the search criteria in software selection, the most important one is actually maturity – both of the software vendors being considered and of the company conducting the search. How much does the software vendor know about a certain industry and how many implementations has it completed successfully? And what is its approach, both during the implementation and in terms of support once the application is live? The maturity of the company looking for new supply chain software is even more crucial. What kind of solution is the company ready and able to work with? Too many companies still desperately try to incorporate all the necessary planning functionality in an ERP system. But such a strategy restricts the company's agility because all its time and energy goes into a time-consuming integration – leaving no time or money for smart, innovative solutions from rapidly evolving players that can further accelerate the company's maturity.
Martijn Lofvers is Chief Trendwatcher at Supply Chain Media.