IT Subway Map Europe 2021 shows dynamic shifts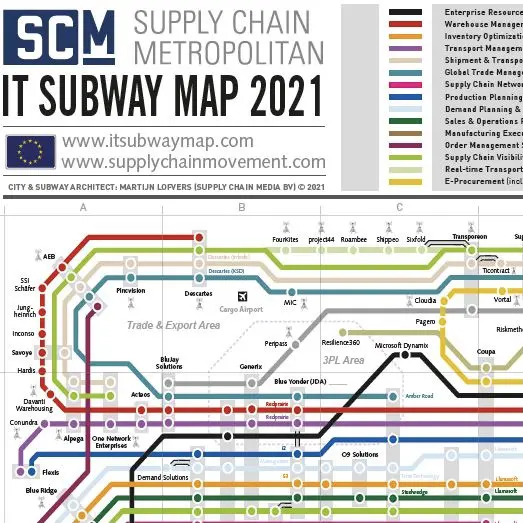 Europe's supply chain software market went through a quiet period in the early phase of the coronavirus pandemic, but we are now seeing a large number of acquisitions, newcomers and collaborative partnerships. According to our own research, this upswing in activity stems from a strong increase in manufacturing and trading companies' willingness to invest, especially in software for sales & operations planning (S&OP) and end-to-end supply chain visibility. The eleventh edition of the SCM IT Subway Map Europe provides a clear overview of the numerous newcomers in supply chain software.
By Martijn Lofvers
The extreme peaks and troughs experienced in global supply chains during the COVID-19 pandemic brought it home to many companies that their systems were inadequate for managing and aligning supply and demand. According to a survey we conducted among manufacturing companies in Europe in mid-2020, solutions for S&OP and end-to-end supply chain visibility are at the top of the IT investment list (45% and 40%, respectively), while about a quarter plan to invest in enterprise resource planning (ERP) and prescriptive supply chain analytics. The companies with above-average supply chain maturity are more likely to be planning to invest in analytics, while less mature companies are more focused on implementing ERP and warehouse management.
The strong need for visibility can be largely explained by the chaos the coronavirus crisis caused in international supply chains. Despite this, a relatively low number of respondents (12%) plan to invest in real-time transport visibility. Among the companies with above-average supply chain maturity, however, 27% are going to invest in this fairly new type of software. Meanwhile, five out of the ten logistics service providers who were surveyed separately intend to implement this software in the coming year.
Notable acquisitions
The high demand for supply chain software has also translated into a relatively large number of recent acquisitions among soft-ware vendors. The most notable acquisition has been Japanese electronics manufacturer Panasonic's takeover of Blue Yonder, which until just over a year ago was still called JDA. Panasonic previously acquired Zetes – a Belgian provider of solutions for automatic identification and supply chain visibility – in 2017. Panasonic hopes that both of these acquisitions will support its development of fully connected tag-based autonomous and smart supply chain solutions.
Another surprising acquisition is that of supply chain software supplier Llamasoft by Coupa, the fast-growing American pro-vider of business spend management in the cloud. This takeover will enable Coupa to offer solutions for both procurement and supply chain management.
Rising demand for real-time transportation visibility has driven the acquisition of Austrian vendor Sixfold by Germany's Transporeon. Meanwhile, Swedish ERP vendor IFS recently acquired the UK service management specialist Axios Systems, and the relatively small German software vendor Remira acquired both Outperform from the Netherlands and Berlin-based Nicando in quick succession. A further noteworthy acquisition is that of Vanguard Software, the American vendor of integrated business planning (IBP) software, by Wolters Kluwer which originally started out as a Dutch publisher of legal and financial trade journals but is now a global provider of professional information.
Newcomers on the map
In addition to these acquisitions, the eleventh edition of the SCM IT Subway Map Europe includes quite a few newcomers this year. Some of these new additions – namely Adexa, Demandsoft, Flexis, scale-up Flowlity, start-up Garvis and sedApta – focus mainly on forecasting and S&OP, while BlueRock Logistics and Conundra offer solutions for supply chain network design and transportation planning, respectively. Meanwhile, Magnitude and Roambee provide software for supply chain visibility. Peripass has been added to the subway map along the new line of Yard Management Systems providers.
All of the above developments in the European supply chain software market have been incorporated into the eleventh edition of Supply Chain Media's SCM IT Subway Map Europe. Based on their input, including about the number of live customers in Europe and the revenue percentage per software type, software vendors have been assigned a number of subway stations to reflect their expertise.
Besides the magazine and poster versions, Supply Chain Media has also developed an interactive online version of the SCM IT Subway Map: www.itsubwaymap.com.
Download the full IT Subway Map Europe 2021
Fill in the form below and download the poster.
Download:
IT Subway Map Europe 2021