Chaos in container shipping forces changes in procurement strategy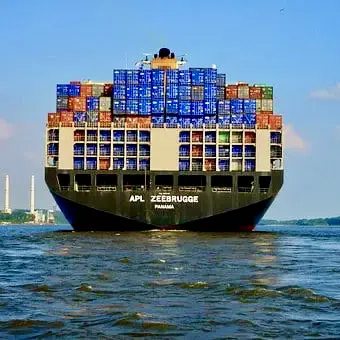 The insanely high prices for container shipping are causing problems in countless supply chains, and the overheated market is not expected to cool off in the near future. Digital purchasing platform Shipsta is therefore encouraging shippers to adapt their procurement strategy, such as by increasing their tender frequency, automatically indexing rates or segmenting container flows. During a recent Webinar Wednesday, machinery manufacturer Claas and tyre manufacturer Continental explained which strategy they have chosen.
By Marcel te Lindert
"Every shipper has heard horror stories, such as it costing US$20,000 to transport a 40-foot container from China to northern Europe… but this is actually happening," said Oliver Ritzmann, Chief Commercial Officer and co-founder of Shipsta. "Rates have exploded, especially in the spot market. Shippers who used to pay perhaps US$1,500 to US$2,000 for a shipping container are now averaging US$13,000, and sometimes even much more. Rates have risen sharply, not only to Europe but also to other regions such as the west and east coasts of North America."
Luxembourg-based technology company Shipsta started building an intelligent transport procurement platform in 2015 and has grown rapidly – from 20 to 65 employees – in the past year. This is partly due to the chaos that the pandemic has caused in container shipping, which has created the need for new, smart solutions among shippers. "The chaos is causing major delays in the supply chain and multiple shippers are running out of stock. They are competing with each other for space on the container ships," Ritzmann stated.
Delays in handling
The pandemic has given e-commerce sales a huge boost. As a result, imports from China have risen sharply in North America and Europe. However, delays are occurring in container handling because the infrastructure in the hinterland of these regions cannot cope with the growing number of containers. It takes longer for them to reach their final destination, which means they are slower to become available for new shipments. This has led to a worldwide shortage of containers. "In addition, of course, there have been some major incidents, such as the blocking of the Suez Canal and the closure of some Chinese ports due to coronavirus outbreaks. Even when those ports reopen, it takes considerable time to clear the backlog."
Ritzmann indicated that he had seen some signs of the market cooling off slightly in recent weeks: "But it's too early to speak of a trend, especially since the peak season is just around the corner. It will still take some time before prices drop significantly. After all, shippers don't have many alternatives for container transport. Shipping companies have placed orders for new container ships to be built, but it will be at least another 18 months before they are in service. This leads to the conclusion that shippers need to change their purchasing strategy."
Increased tender frequency
Agricultural machinery manufacturer Claas has opted to increase the frequency with which it issues tenders. By not entering into long-term commitments and rate agreements with shipping companies, the company hopes to avoid losing money unnecessarily once the market cools down. Sascha Gees, responsible for logistics procurement at Claas, explained: "We're a German company, but 80% of our €4 billion turnover comes from abroad. We have factories in the USA, Russia, China and India, among other countries. We transport around 10,000 TEU each year."
About 40% of those containers are shipped between Europe and North America. "Until early 2020, we worked with forwarder per route, usually based on 12-month contracts," said Gees, who uses Shipsta's platform when procuring transport capacity. "We've now increased our tender frequency from one to four times a year. That creates more work for us as a procurement department, but Shipsta enables us to simply enter our requirement and our rates and then invite forwarders to submit a proposal. In addition, we can easily monitor the evolution of prices on routes that our suppliers use. Our procurement colleagues like to receive that information when negotiating with them."
Automatic indexing
Another strategy is to index the rates for container transport. Shipsta enables the rates to be adjusted automatically – e.g. monthly or quarterly – based on a market index. Ritzmann: "That's a good mechanism if you still want to work with long-term contracts, but without having to keep renegotiating rates. The price is transparent for everyone, which supports the more effective management of risks and margins in volatile markets. Indexing seems like a simple solution, but it's often difficult to implement in practice. Without automation it results in an inefficient process with dozens of spreadsheets, which in turn lead to mistakes and discussions about invoices."
Segmenting flows
Tyre manufacturer Continental has opted for a different strategy: segmenting container flows. In the past the firm distinguished only between major and minor routes, with major routes defined as those with at least one container per week. Dierk Carsten Harries, responsible for purchasing, commented: "The major routes account for just 14% of the total routes we use, yet 75% of the volume we ship. However, until recently we only issued one tender per year for all routes, major and minor. If we needed more capacity than we'd reserved, we used the spot market."
Continental is now switching to a multi-tender strategy. It still holds a big tender annually, but only for its basic needs on the major routes. For the minor routes and any additional capacity needed on the major routes, it issues a tender several times a year using the Shipsta platform. These tenders are for a short time frame based on the latest forecast for that period. Harries: "This means we only need to use the spot market in emergencies."