Albert Heijn introduces zero-emission deliveries and replenishment in major city centres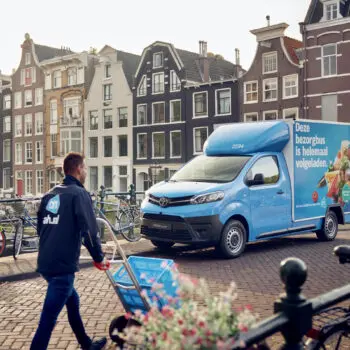 Dutch grocery retailer Albert Heijn (AH) has set itself the climate goal of being a zero-emission supermarket chain by 2050. Its own operations (stores, distribution centres and offices) have been entirely climate-neutral since 2021, mainly thanks to fully switching to Dutch wind energy. AH and its transportation partners are taking ongoing steps to reduce supply chain-related emissions. In one such step, zero-emission transport will be introduced in the city centres of The Hague, Rotterdam, Amsterdam and Utrecht by the end of this year.
"Most emissions are generated in the chain. In 2022, we redefined our ambition: to reduce greenhouse gas emissions in the production chain by 45% from 2018 to 2030, with the ultimate goal of a zero-emission chain in 2050. We're focusing on eight specific topics where we, as Albert Heijn, can influence the reduction of carbon emissions. These include a more sustainable product range, recyclable packaging, tackling food waste, and transportation. Together with our transport partners, we are aiming for completely emission-free transport. We're continuing to innovate to achieve this," comments Sonja Boelhouwer, Director of Omnichannel Operations at the grocery chain.
Zero-emission deliveries and replenishment
Home deliveries of groceries and store replenishment activities are already fully electric in the urban centres of The Hague and Rotterdam. Amsterdam and Utrecht are next in line, with more cities to follow in 2024. For customers and local residents alike, this approach means quieter and cleaner transport in their area. AH claims this keeps the company a step ahead of the zero-emission zones that will become mandatory in these cities from 2025. Additionally, this move is aligned with the company's ambition to reduce its greenhouse gases emissions by 45% in 2030 (compared to 2018) and to achieve net zero in 2050.
Fast-charging stations
Albert Heijn already supplies 150 stores using electrically powered vehicles every day. This figure will rise to over 200 by the end of 2023, and will continue to grow. The company has therefore invested heavily in fast-charging stations. One of the country's biggest fast-charging stations for electric trucks opened in the town of Pijnacker in late 2022. Since then, a second charging station was set up at AH's distribution centre in Zaandam to support zero-emission deliveries to stores in the region of Zaandam, Utrecht and Amsterdam. It features close to 20 fast chargers, supporting emission-free replenishment by over 40 electric trucks.
To support as much electrically powered driving as possible in Amsterdam, a third charging station has been set up at the city's Home Shop Center, supporting over 60 electric delivery vehicles in that area. The facility also includes a large storage battery to manage peaks in the demand for power.
Charging stations for shoppers
To make it easier for consumers to choose sustainable transportation options – besides cycling or walking, of course – for their shopping trip, the retailer intends to provide charging stations at Albert Heijn stores, starting with its stores in Borculo, Ede, Eindhoven, Tilburg and Nijmegen. In this context, AH and Eneco eMobility last year signed a collaborative agreement for the construction of electric charging stations. This electricity will be completely sustainable, generated from Dutch wind energy. AH indicates that it will continue to expand the number of charging stations at its stores in the coming years.