Smartmile and DHL Express partner up for more sustainable deliveries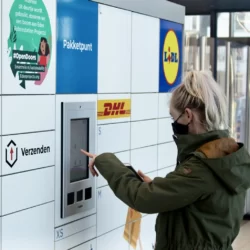 Smartmile has joined forces with DHL Express in the Netherlands in a pilot project to make parcel deliveries more sustainable. DHL Express is the second carrier that Smartmile has integrated as part of its vision for an open and shared delivery infrastructure, primarily aimed at reducing carbon emissions. The project will initially be limited to a number of locations in the Utrecht region. However, it is hoped that the partnership with DHL Express can eventually be rolled out across Smartmile's international network.
As the number of deliveries in the Netherlands (586.3 million parcels in 2020 – ACM, 2020) continues to grow, the logistics sector is facing a major challenge – not only due to the driver shortage (IRU, 2021) and the increasing popularity of same-day and instant delivery, but above all due to the associated increase in carbon emissions. Failed deliveries make the situation worse, which is why Smartmile decided to set up an international network of parcel lockers – called Smartmile Hubs – in central locations.
The parcel lockers are carrier-agnostic, meaning that any carrier or courier can use them to serve an entire neighbourhood in a single stop. This minimizes the likelihood of failed deliveries and, compared to home-delivery or carriers' own systems, it reduces the number of delivery vans that are present in urban areas. Conversely, consumers can collect, return and ship packages from multiple carriers at a single location. The more couriers that integrate into the Smartmile network, the greater the potential to reduce carbon emissions will be.
Innovative integration platform
For DHL Express, Smartmile's technology was the differentiating factor. Smartmile Building Blocks is the company's innovative integration platform that enables it to rapidly develop new ideas and services that contribute to sustainability and solutions within the logistics industry. The necessary preparations for a future international roll-out were made at the same time as integrating DHL Express into Smartmile's Dutch network.
"We want to offer our customers a more flexible solution when sending and receiving parcels. Meanwhile, sustainability is a clear business priority for DHL Express. Our goal is to reduce all logistics-related carbon emissions as far as possible. The Smartmile solution helps us to achieve both of those things," said Kees van Soest, Operation Manager Retail at DHL Express.
Network growth
Smartmile is currently operating 66 lockers in the Netherlands in cooperation with DHL Parcel, and the size of the network is expected to more than double in the coming year. In addition, the company is developing complementary solutions that will further increase the sustainability potential of each location.
Frank van Os, CCO of Smartmile, is pleased with the new partnership with DHL Express. "Together, we are taking an important step in the development of an open and shared infrastructure of parcel lockers. Besides continuously improving the sustainability of the 'last mile', we're also enabling consumers to collect, return and send more and more parcels at a single, convenient location," said Van Os.