Everyone will have to embrace sustainability sooner or later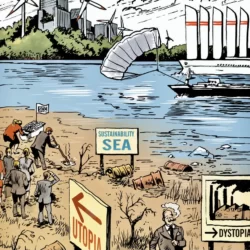 Some companies are getting serious about sustainability, while others are still carrying on as before. Which factors determine whether or not businesses include sustainability in their strategy? And what steps must the laggards take if they too are to reach the longed-for utopia? "Maybe some companies don't feel the pressure to invest in sustainability right now. But it's only a matter of time."
A clear gap is emerging in the business world. While some companies are fully engaged in sustainability and are leveraging it to gain competitive advantage, others are lagging behind. Those companies' customers do not seem bothered about sustainability and their competitors are not engaged in it either, so why should they invest in a sustainable supply chain that produces sustainable products and services?
Evidence of the dichotomy emerged from a study by Anna Zwiggelaar, who interviewed 13 supply chain managers over recent months. "The frontrunners have made sustainability part of their business strategy. It is leading in the product design and in the production process, and they promote that fact. These companies also have competitors who are taking sustainability seriously, which is motivating some of them to stay at the front of the pack while others don't want to be left behind. That stimulates sustainability-focused decision-making," explains Zwiggelaar. Her research contributed to the successful completion of her master's degree in Supply Chain Management at the University of Groningen.
The supply chain managers in the laggards group are not involved with sustainability. They don't feel that sustainability is included in decision-making elsewhere within the company, not even in the boardroom. "The perception within these companies is that sustainability leads to more expensive products. They are afraid that sustainability initiatives will make their costs higher than their competitors', which will price them out of the market. And they don't feel that customers are willing to pay… … …
Want to read more?
Curious about the full 6-page article? Take a digital subscription and have full access to this article and much more exclusive content >> https://shop.supplychainmedia.eu/product/digital-subscription/