Tesla's humanoid robot could be used in warehouses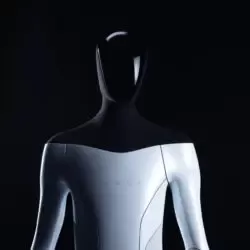 Car manufacturer Tesla plans to launch a prototype of a humanoid robot next year. Called the Tesla Bot, it is aimed at relieving humans of simple tasks. It could therefore be very suitable for repetitive work in warehouses, for example, which in turn would help to solve the labour shortage.
Elon Musk, CEO of Tesla, announced the imminent arrival of the Tesla Bot at a recent artificial intelligence event. Musk has been working with artificial intelligence for some time. He now aims to develop friendly, harmless robots that can learn and think for themselves.
The adult-sized prototype of the robot is controlled via a tablet embedded in its face. The Tesla Bot will be able to handle boring, repetitive jobs in the home or, for instance, in a warehouse. According to Musk, the robot could therefore play a role in addressing the labour shortage.
Dysfunctional prototypes
Press agency Bloomberg is critical of the billionaire's plans, stating that Musk has presented several prototypes in the past which have subsequently failed to make it to market due to functional issues. However, Musk himself already regards Tesla's semi-autonomous electric vehicles as "robots on wheels".
Incidentally, Tesla is not the first car manufacturer to engage in robotics. According to the Dutch newspaper Algemeen Dagblad, Honda launched the Asimo robot back in 2000 and Toyota and Hyundai are currently working hard on the development of humanoid robots.