Supply chain scale-up in the spotlight: Circularise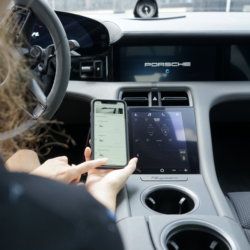 Circularise responds to the increasing demand for sustainability and an ethical production chain against the backdrop of climate change, shifts in mobility, supply chain complexity, resource scarcity and regulatory pressure. The implementation of circular economy practices is being hindered by a lack of data sharing about the materials used in production, caused by a combination of inherent supply chain complexity and concerns around trust, privacy and confidentiality among stakeholders. Circularise has therefore developed a software system that helps suppliers to trace materials and share their environmental footprint without risking sensitive data.
Since the data is not centralized, it always stays in the hands of the owner and access to it is carefully restricted. The company has even developed patent-pending 'Smart-Questioning' technology which allows material suppliers to keep data secret (even from Circularise itself) while sharing specific information on their materials to brands and regulators.
Circularise claims that legislation and regulations are the biggest driver for change in its focus industries, which include automotive, electronics, chemicals, plastics, metals and battery materials. Therefore, the software system is specifically designed to help suppliers and OEMs to certify their products, improve reporting on life cycle assessment (LCA) and other environmental data such as Scope 3 emissions, and comply with the German Supply Chain Act, Digital Product Passports, Corporate Sustainability Reporting Directive and other regulations.
Project in collaboration with Porsche
Founded in The Hague, the Netherlands, in 2016, Circularise currently has 21 employees and a customer portfolio that includes Asahi Kasei, Marubeni, Municipality of Amsterdam, Covestro, Borealis, Stanley Black&Decker and more. The most notable client is Porsche; in 2021 Circularise received a Special Commendation from the European Chemical Industry Council (CEFIC) for its project in collaboration with Porsche, Borealis, Covestro and Domo Chemicals to enable the traceability of plastics in the automotive sector.
Circularise has won numerous other awards and commendations in recent years, including being selected to join the 12th batch Garage+ Startup Global Programme in Taiwan in 2021 and being highlighted among the Top 8 Benelux start-ups by TechFounders.com in 2021. The company also won participation in The Circulars Accelerator 2021 organised by the World Economic Forum, Ecolab and Accenture.
Top 100 of sustainable frontrunners
Mesbah Sabur, one of Circularise's co-founders, was listed in the Top 100 of sustainable frontrunners in the Netherlands in 2021. By 2024, the company aims to create the leading interoperable public blockchain-based digital infrastructure for supply chain traceability and transparency. In the short term, Circularise is planning to expand to Japan, Germany and the USA, followed by expansion to other global markets.