European supply chain start-ups to pitch their innovations during inNOWvate 2022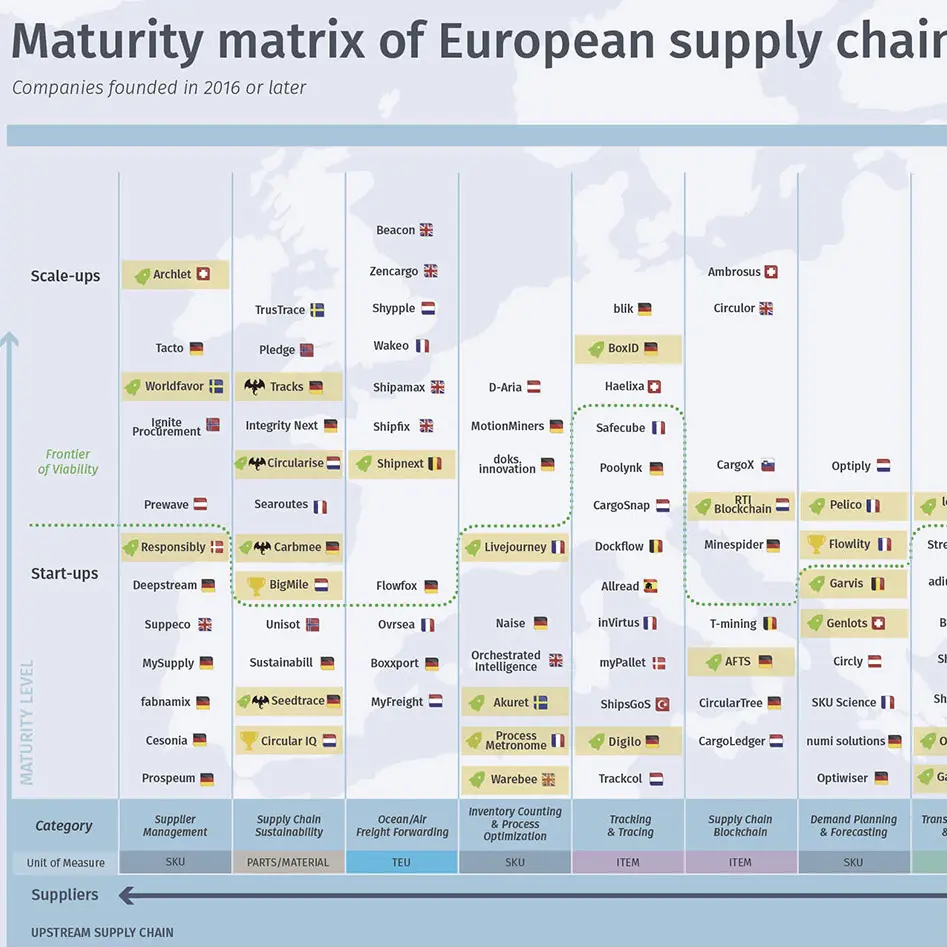 Supply Chain Media is organizing the European Supply Chain Start-up & Scale-up Contest as part of the inNOWvate Supply Chain Event in the Netherlands for the fifth consecutive year on 19 May. In preparation for this, more than 200 European start-ups were surveyed and positioned in the Maturity Matrix across ten categories of supply chain solutions, ranging from supplier management upstream in the chain to last-mile delivery on the customer side.
The Start-up and Scale-up Contest involves 27 participants from 12 different European countries. Their solutions cover several different areas of supply chain management. For the purpose of the contest, a distinction has been made between start-up companies (which have raised less than €2.5 million capital) and scale-ups (which are in the next growth phase).
The participants in this year's European Supply Chain Start-up & Scale-up Contest 2022 are: AFTS, Akuret, Archlet, Box ID, Carbmee, Charry, Circularise, Digilo, Garvis, Genlots, Impargo, Innoship, Livejourney, Logistics.cloud, Numi Solutions, OmniOpti, Pelico, Postis, Process Metronome, Responsibly, RTI Blockchain, Seedtrace, Shipnext, StoreShippers, Vuse-Gandolapp, Warebee and Worldfavor.
On-stage elevator pitches
All participants will have a small stand at the inNOWvate Supply Chain Event, which is being held on 19 May at the Pathé cinema complex in the Dutch city of Ede, just off the A12 motorway. On the day, the three start-ups and three scale-ups that qualify for the final will each present their solution in a three-minute elevator pitch on the main stage of the inNOWvate Supply Chain Event in a bid to become the successors to last year's winners, Winddle and BigMile.
The winning start-up will be determined based on the combined feedback of an independent professional jury plus the public. The winner of the scale-up contest will be chosen solely on the basis of votes from the attendees, both on-site and online. The expert jury, which will interview the three finalists individually during the event, will judge the start-ups based on four criteria: the commercial potential, disruptiveness, usability and clarity of their proposition.
Visitors to the inNOWvate Supply Chain Event can also participate in the 'Dragon's Den' session in which chief supply chain officers will critically evaluate a number of supply chain sustainability solutions from start-ups.
For more information about this contest and the event, go to: https://innowvate.eu.