Princes uses blockchain to create end-to-end transparency in tuna chain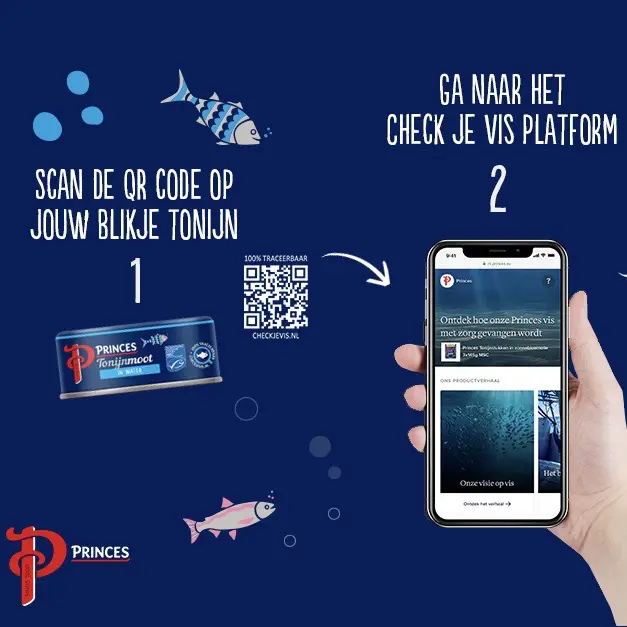 Princes, one of Europe's largest food and beverage groups, is using blockchain technology to provide transparency into its tuna chain. The digital platform called 'Check je Vis' gives Dutch consumers insight into the entire journey the fish makes, from the ocean to the supermarket shelf.
The new platform uses blockchain technology to provide transparency into the origin of canned tuna sold under the Princes brand. QR codes on the new packaging give consumers access to the story behind the products. The platform is designed to make it easy for people to gain insight into the environmental and social impact of Princes products.
"In the Netherlands, we are market leader by volume of MSC-certified canned fish. Our customers need to be confident that our products have been produced with care," says Menno Bax, Marketing Director at Princes Europe. "Blockchain is a terrific technology that makes the chain transparent, which allows consumers to enjoy our fish without worrying about its origins."
Broader rollout
The initiative is part of a broader rollout within the Princes Group, based in the United Kingdom. Bax: "Our new partnership with transparency platform Provenance enables us to tell our story clearly and easily. That's making the use of blockchain increasingly important within the group, such as for our Napolina tomato brand and for private labels for our strategic partners, for example."
Jessi Baker, founder & CEO of Provenance, comments: "The growth around sustainable and ethical products is changing supply chains. Brands need to be able to provide concrete evidence that they are taking impactful action." Thanks to the launch of 'Check je Vis', consumers are now able to make an informed decision when buying canned tuna.
Recyclable packaging
In addition to the new initiative, Princes recently introduced fully recyclable packaging for its multipacks of tuna chunks. The plastic sleeve around the packaging has been replaced by an FSC-certified cardboard version. The new packaging featuring QR codes will become available in stores this month. Princes is starting with its tuna products, and the other types of fish will follow shortly.