Practical insights into supply chain innovation following the COVID-19 pandemic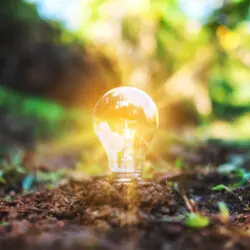 The coronavirus pandemic has proved to be a major business reset for many companies. The COVID-19 outbreak revealed fundamental vulnerabilities in supply chains and accelerated the digital transformation. Speakers at the 4th inNOWvate Supply Chain Event on 18 May will provide practical insights into how companies should innovate going forwards, including examples from businesses that are already doing so.
During this year's hybrid event, Cécile Cremer, Future Researcher and owner of the company called Wandering The Future, will help the online participants and the on-site attendees to look ahead to the year 2030. How can companies develop practical skills that will enable them to model possible and desirable business scenarios?
Janet Godsell, Professor of Operations and Supply Chain Strategy at the University of Warwick, will present four science-based scenarios for more sustainable production chains in 2035. She will answer the key question of how companies can make their supply chains more sustainable through innovation.
Start-up mentality
Sikko Zoer, Vice President Global Supply Chain at Medtronic, will explain how his company developed a digital twin of its ecosystem within a very short time frame when the COVID-19 crisis started. He set up a dedicated team to make better use of the available tools and to identify blind spots for improvement and innovation.
Dirk Holbach, Chief Supply Chain Officer at Henkel Laundry & Homecare, and Roeland Baaijens, Executive VP Global Logistics at Hilti, will share insights into the customer service-focused innovation drivers within their companies. How do they encourage their colleagues to emerge from their own 'bubbles' and initiate innovation projects? And what are the criteria when deciding whether a project should be rolled out company-wide or perhaps whether it should be cancelled?
Martijn Lofvers, Chief Trendwatcher at Supply Chain Media, will provide a candid look at his company's start-up-like journey to develop a machine learning-driven supply chain knowledge bank. What do supply chain professionals really need, both now and in the future? And how have those needs been translated into a concrete, workable solution: the 'Netflix' of supply chain-related articles?
Pitches and customer cases
Additionally during the event on 18 May, four start-up companies – the finalists in the 4th European Supply Chain Start-up Contest – as well as four more mature scale-ups will pitch their innovative and practical solutions to tackle a range of supply chain-related challenges. Public voting during the event will help to decide the winning start-up and scale-up.
Besides these start-ups and scale-ups, a number of established software vendors – namely Blue Ridge, Blue Yonder, Consafe Logistics, Slimstock, Solventure and Tesisquare – will be presenting their innovative solutions in the areas of end-to-end planning and integrated business planning (IBP), sales & operations planning (S&OP) and visibility, and warehouse management systems (WMS).
Throughout the day, attendees can engage in online meetings with the start-ups, scale-ups and software vendors. They can also meet fellow professionals in the digital lounge to learn from one another and gain new inspiration.
To participate in the programme and network online on 18 May, register to attend the hybrid inNOWvate Supply Chain Event.