Picnic seeks alternative location after fire in hub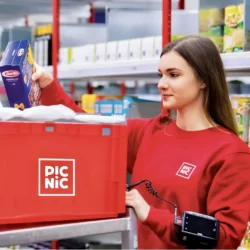 Various local businesses offered online grocery retailer Picnic a 'home' after fire destroyed its hub in the Dutch town of Roosendaal on 28 December. Even so, it will take a while before the e-tailer is fully up and running again.
The logistics hub on the Borchwerff industrial estate was completely destroyed by the fire, resulting in the cancellation of numerous customer orders. Several businesses in Roosendaal offered Picnic an alternative solution. "They approached us spontaneously, but you can't arrange something like that overnight. Contracts have to be drawn up," commented spokesperson Romke Spierdijk to BN/De Stem.
The Roosendaal hub was a transshipment facility. "The groceries are picked in the central distribution centre in Breda and then shipped in trucks to the hub. From there, the orders are delivered locally in electric vans," explained Spierdijk. The limited range of the electric vans means that any replacement location must also be based in Roosendaal.
Cancelled orders
Picnic initially cancelled all customer orders for the next seven days, but the Picnic spokesperson does not realistically expect operations to resume in the West Brabant region in the immediate future. "To be honest, it's going to take a few more weeks," said Spierdijk. The loss of turnover comes as an extra blow on top of the cost of the fire damage, which is estimated at over a million euros for Picnic. Since the facility also housed other companies besides the online retailer, the total cost of the damage is likely to run into several million euros.