Joost Bous named as the top SCM director in the Netherlands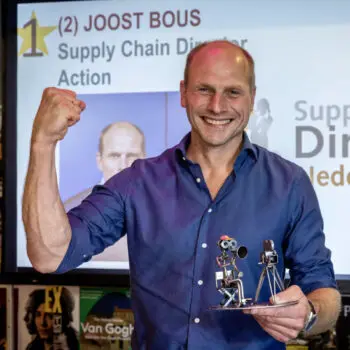 Back in 2017, headhunter Edwin Tuyn would never have hired Joost Bous for the role of supply chain director at the fast-growing retailer Action – and neither would Bous himself, he admits candidly. Nevertheless, he has now secured first place in the Top 26 Supply Chain Directors of the Netherlands ranking, followed closely by Karel de Jong of Jumbo as number 2 and Mark Hoppenbrouwers of Rituals in third position. Bous: "I've learned a lot in the past five years."
By Marcel te Lindert
Action's growth has been impressive. At the end of 2017, the retailer had five distribution centres and a thousand stores in seven countries, with €3.4 billion in turnover. It now has more than two thousand stores in ten countries and sales have doubled to €6.8 billion (based on 2021 figures). Besides a total of eleven distribution centres, three import hubs and a cross-dock are now operational. And there are no signs of the growth slowing down; Action opens a new store somewhere in Europe every working day.
When congratulating Joost Bous, Edwin Tuyn from Inspired-Search praised the evolution of Action's supply chain, since it is the supply chain that facilitates Action's rapid growth. "Many of the eleven distribution centres are outsourced, but a lot of work is currently underway to make the distribution centres more autonomous. Action is keen to change the balance slightly, and Joost can take much of the credit for that. Today, there is a professional organization which now also has sustainability high on the agenda."
From the delivery world
Tuyn didn't mince his words about Joost Bous himself, saying he would never have selected him for the position of supply chain director at Action. Bous had built his career at TNT and had no experience whatsoever in retail. "When compiling the Top 26, one thing we look at is the functional responsibility of the supply chain directors. For this, we use the SCOR model, which distinguishes four processes: Source, Plan, Make and Deliver. He knew a lot about Deliver, but Source, Plan and Make were not yet in his DNA. That has since changed completely, however, and he is the rightful winner," stated Tuyn.
Bous expressed his delight at being named the top supply chain director of the Netherlands: "The past five years have been a rollercoaster. I did indeed come from the delivery world and didn't have the faintest idea about planning, so I had to master that very quickly. This accolade is not just for me but for my entire team and they deserve huge thanks. In addition, I want to thank the organization. Quite simply, Action is a great format. We're continuing to grow fast, plus we're working very hard on sustainability. That's a nice challenge for us to tackle in the years ahead."
Reshuffle
Last year, Joost Bous ended up second in the ranking behind the 2021 winner Jeroen Both, the former supply chain director of Accell. Last year's number 3, Karel de Jong from Jumbo, has now climbed up to second place. This year's top three is completed by Mark Hoppenbrouwers of Rituals, who finished eighth last year. The highest new entrant is Martijn Bonte, chief operating officer of technical wholesaler Kramp, in fourth place. "There has been a remarkable reshuffle in this year's Top 26. Lots of new names have made it onto the list, but that means that many other names have disappeared," commented Martijn Lofvers of Supply Chain Media prior to the announcement of the winner.
The recent series of supply chain disruptions provides one possible explanation for this, he said: "Perhaps companies need different types of supply chain directors with different competencies in the current times. Or maybe they were just ready for something new. Many supply chain directors I speak to say they are ready for a new challenge after five years."
Selection criteria
Alongside Inspired-Search and Supply Chain Media, consultancy firm KPMG played an important role in compiling the list by analysing the companies' financial performance on the basis of public data. In addition to revenue growth and profit growth, the return on capital employed (ROCE) was a particularly important consideration. "That explains why, for example, Picnic's Wybe Jan Bleeker's score is relatively low. That company is investing heavily in growth, so the ROCE is negative," explained KPMG's Johan Smits.
Besides the financial performance, KMPG also looked at sustainability targets. "Strikingly, all the companies in the top 10 have set themselves additional sustainability targets. Many of them have also indicated that they want to halve their CO2 emissions in the years leading up to 2030. We will pay more attention to this moving forward, including to the Scope 3 emissions which will become increasingly measurable," added Smits.
Figureheads
The scale of the function was another important factor in the ranking, in terms of both functional responsibilities and geographical scope. Is the supply chain director responsible for the Netherlands only, or also for the European or even global supply chain? How complex is the supply chain? And does the supply chain director have a seat on the board? "We also look at whether the director is responsible for the topics of digitalization and sustainability," Tuyn explained.
In addition, the supply chain director must be visible. "We're looking for industry figureheads. We count the number of press releases and interviews in which the supply chain directors are quoted, and we count whether they hold guest lectures or presentations at conferences," said Lofvers. "We also believe that supply chain directors should have a higher profile in general management channels. That's not only important for yourself, but also for your company and for your profession as a whole."
Top 26 SCM Directors in the Netherlands 2022 (vs 2021)
(2)       Joost Bous, Supply Chain Director, Action
(3)       Karel de Jong, Director Supply Chain, Jumbo Supermarkten
(8)       Mark Hoppenbrouwers, Supply Chain Director, Rituals
(-)        Martijn Bonte, COO, Kramp
(17)     Sarah Mozes, Supply Chain Director, Ace & Tate
(23)     Teun van Boeckel, Supply Chain Director, Swiss Sense
(-)        Hans Omvlee, Global Sourcing & Supply Chain Director, Bunge
(9)       Aron Waas, Global Supply Chain Director, Royal Boon Edam
(-)        Antoine Doppenberg, Managing Director Supply Chain Management NL, Aldi
(12)     Wybe Jan Bleeker, Supply Chain Director, Picnic
(24)     Pim Pilon, Supply Chain Director, Vivera
(-)        Peter Meyer, Supply Chain Director Europe, Alliance Automotive
(-)        Joep Arts, Director Supply Chain, Intergamma
(6)       Stan Bijsterveld, Director Global Supply Chain, IMCD Group
(10)     Arthur van Och, Supply Chain Director, ForFarmers
(-)        Marloes Blaauw, Supply Chain Director, Safescan
(-)        Kees-Jan van Wees, CSCO, Zeelandia
(-)        Aart Leijnse, Supply Chain Director, Danish Crown Foods
(-)        Henk-Jan Groeneveld, Supply Chain Director, Rexel Nederland
(-)        Eline Oudenbroek, VP Supply Chain/Operations EMEA, Interface
(-)        Marcel Lee, Supply Chain Manager Europe, Princess Group
(-)        Rowell Versleijen, Director Logistics, Plus Retail
(22)     Bert Pierik, Director Supply Chain Management, Avebe
(-)        Bas van Winden, Supply Chain Director Europe, AAK
(-)        Danny van der Ster, EMEA Logistics & Supply Chain Excellence Director, Assa Abbloy
(26)     Gert Jan Janssen Reinen, Supply Chain Director, Aviko