Mewa: a pioneer in textile sharing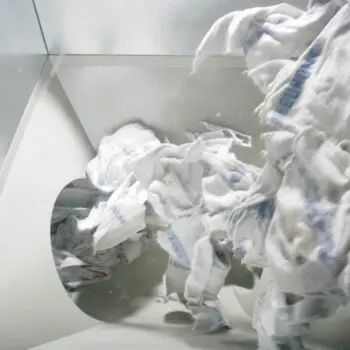 Mewa, a European producer of workwear and cleaning cloths, has won a string of awards for its commitment to sustainability. In 2021, for example, it received the Italian 'Best Performer of the Circular Economy' award from industry association Confindustria. Earlier this year, it won an award for its commitment to sustainability from the Cologne-based rating and classification agency ServiceValue, which conducted a survey of German consumers in cooperation with Deutschland Test. Headquartered in Wiesbaden, Germany, and with 46 locations across 14 countries, Mewa is a true pioneer in textile sharing.
Industry 4.0 has created numerous opportunities for using technological advancements to improve environmental protection. This is particularly relevant for the Mewa Group, which has always been committed to conserving resources. Ever since as far back as 1908, the company has offered a textile service based on the principle of reuse. This 'textile sharing' was a groundbreaking idea at the time, but is now a perfect fit with the current zeitgeist of the circular economy.
Reusable cleaning cloths
The very nature of the Mewa concept of textile sharing is sustainable; reusing textiles reduces the impact on the environment. Reusable cleaning cloths instead of disposable ones also result in less waste. However, Mewa takes this a step further, with sustainability and resource conservation as the common threads running through all aspects of its entire service delivery system.
In the Mewa laundry process, for example, water from the washing and rinsing process is filtered, treated and reused at various stages of the process. This closed-loop system, called 'cascade technology', reduces water consumption by up to 50% compared to conventional systems. Moreover, thanks to a special in-house water treatment plant, 99.8% purity is achieved.
Besides this, biodegradable detergents are used in the laundry systems and dosed according to the volume of textiles to be washed. Compared to conventional systems, this reduces the environmental impact by as much as 85%. In other words, Mewa goes far beyond legal requirements and industry standards in terms of its approach to water.
Innovative technologies
Moreover, all Mewa plants are equipped with particularly innovative technologies. For example, Mewa turns the dirt removed from cleaning cloths into thermal energy. This covers up to 80% of the energy requirements for its washing and drying lines, which saves several million litres of fuel oil per year. In addition, the company has developed a special multiphase drying system that is more efficient than conventional dryers.
The reusable principle also applies in the production processes, which are likewise focused on sustainability. For instance, Mewa recently launched its Peak workwear collection, which contains polyester yarns that are partly made from recycled PET bottles. Meanwhile, the cotton lint that is produced as waste in the manufacturing of cleaning cloths is collected, processed and reused as insulating material by the automotive industry.
Carefully planned delivery routes
To further minimize its environmental impact, Mewa uses a fleet of the latest and most eco-friendly vehicles, and carefully plans delivery routes to customers to minimize fuel consumption and emissions. In Switzerland, it introduced the industry's first hydrogen-powered truck last year, and soon customers in Berlin and Hamburg will be supplied completely electrically, including by a cargo e-bike.
The reusable principle even applies to packaging. For the transport and storage of workwear, the company uses washable textile bags which safeguard the hygiene of the clothing. For cleaning cloths, it uses the SaCon safety container which meets international requirements for the transport of hazardous materials by road. And yes, even that container is reusable!
Market leader in textile management
From its 46 locations, Mewa supplies companies all over Europe with professional workwear, protective clothing, cleaning cloths, oil collection mats and foot mats – including maintenance, repair, storage and logistics. It employs around 5,700 people and serves more than 190,000 customers in manufacturing, retail, the artisan sector and foodservice. In 2021, the company generated €770.4 million in sales, making it the market leader in the textile management sector.