Megafactory for prefabricated modular homes to be built in Germany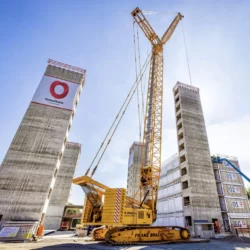 Daiwa House Modular Europe and real estate investor Capital Bay have announced plans to jointly open a megafactory to build prefabricated modular homes in Germany. The factory, which will be constructed to the east of Berlin, will help to alleviate Europe's housing shortage by building tens of thousands of modular homes.
Daiwa House Modular Europe was founded earlier this year after the Japanese Daiwa House Group acquired the modular building company called Jan Snel, based in Montfoort, the Netherlands. Daiwa House Group is considered a world market leader in industrialized construction. Jan Snel, which will continue to exist as a brand, constructs modular buildings for the housing, healthcare, commercial, educational and industrial sectors.
Daiwa House Modular Europe describes its construction method as 'the method of the future'. The use of fully prefabricated building modules that are merely assembled on the construction site enables time savings of 30 to 50%. This results in significantly lower costs and is also considerably more sustainable than traditional construction methods.
Labour shortage
Capital Bay is keen to realize a large number of houses in Germany in a short period of time. However, this cannot be achieved using the traditional construction method; not only would that be too expensive and time-consuming, but it is also difficult to recruit suitable employees in the current market. "There's a shortage of labour, so prefabricated, robotic and modular construction is the only alternative," Daiwa House Modular Europe's CEO Harry van Zandwijk is quoted as saying in the Dutch financial newspaper, FD.
The company plans to purchase the necessary land for the construction of the megafactory in Germany next year, with production and distribution due to start in 2024. Until then, the building modules are being produced in Daiwa House Modular Europe's existing factories. Next year will also see the launch of their first joint project: the construction of apartments for students, young professionals and the elderly.
Circular approach to construction
Van Zandwijk emphasizes the sustainability of the construction method: "We strive to minimize the environmental impact of building activities. Thanks to our circular approach to construction, the individual modules can be easily dismantled and reused for new construction projects at the end of their life cycle. In addition to saving time, this method also halves the amount of carbon emissions."