Maturity Matrix of European Supply Chain Start-ups 2023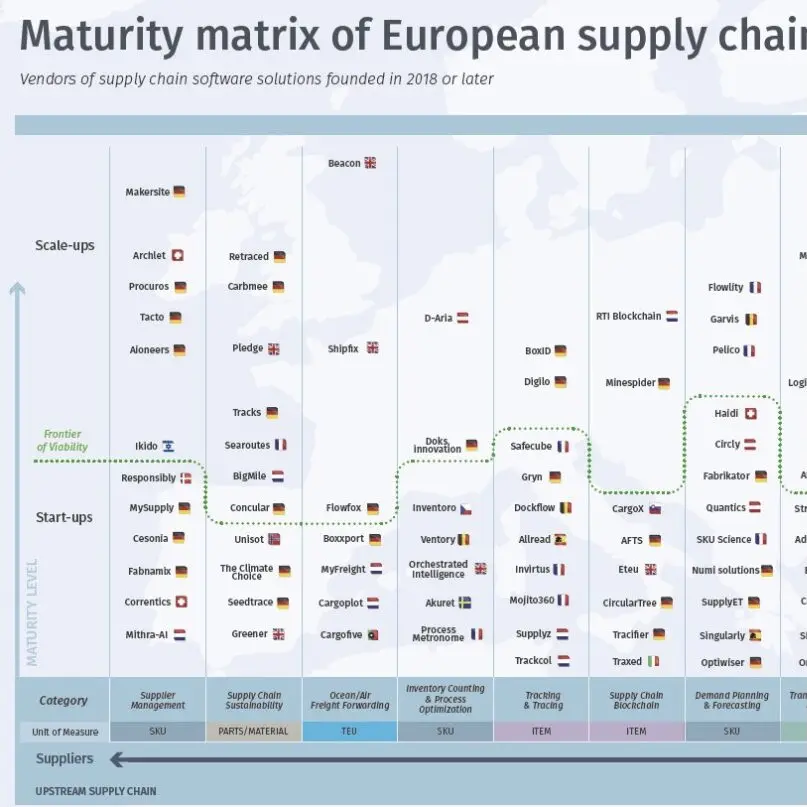 Compared with a year ago, supply chain start-ups in Europe are finding it more difficult to raise capital, according to the feedback from 29 start-ups during Supply Chain Media's research for the annual Maturity Matrix. However, the situation looks rosier in terms of sales pipeline and international expansion. Most newcomers in this year's overview offer innovative digital solutions for sustainability and supply chain planning.
Gone are the days when any start-up with a nice idea could raise capital easily. Investment funds are increasingly taking a critical look at added value, not least because interest rates have clearly risen over the past six months. Meanwhile, customers are asking more probing questions about whether the proposition really solves the problem as intended.
For the sixth consecutive year, Supply Chain Media has published its Maturity Matrix of European start-ups and scale-ups that were founded a maximum of five years ago. In the matrix, the maturity of these young companies is based on age, number of employees, awards won, number of customers and, most importantly, capital raised. They are divided into ten solution categories: Supplier Management, Supply Chain Sustainability, Ocean/Air Freight Forwarding, Inventory Counting & Process Optimization, Tracking & Tracing, Supply Chain Blockchain, Demand Planning & Forecasting, Transportation Planning & Visibility, Road Freight Matching and Last Mile Delivery. This year, there are a remarkable number of new entrants in the Demand Planning & Forecasting category, all of which are applying machine learning (ML) or other artificial intelligence (AI) in their solutions. Start-ups are also increasingly focusing on a variety of digital solutions for sustainability.
European Start-up & Scale-up Contest 2023
Supply Chain Media will be organizing the European Supply Chain Start-up Contest for the sixth time on 11 May 2023. The award will once again be voted for and presented during the inNOWvate Supply Chain Event at Movie Theatre Pathé in Ede, the Netherlands.
Download:
Maturity Matrix European Supply Chain Start-ups 2023