Ventory from Belgium wins European Supply Chain Start-up Contest 2023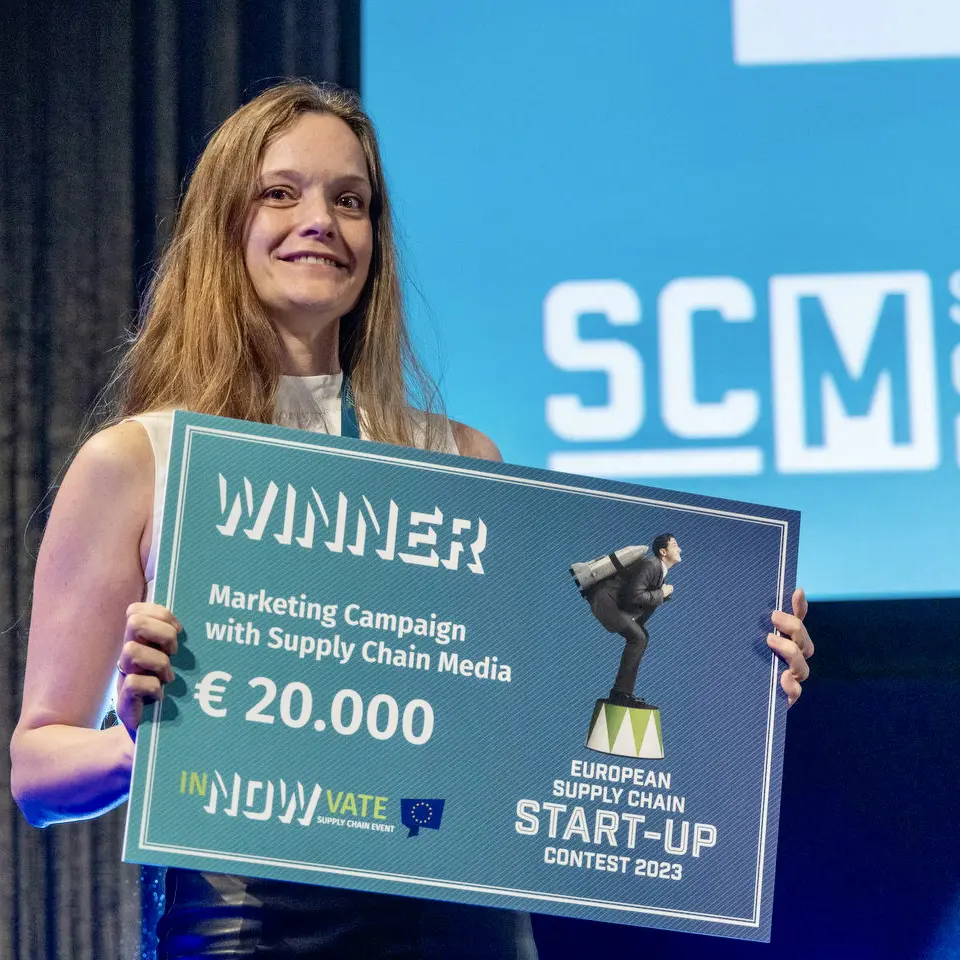 Belgian start-up Ventory emerged as the winner of the sixth European Supply Chain Start-up Contest organized by Supply Chain Media. The competition took place yesterday during the inNOWvate Supply Chain Event at Pathé Movie Theatre in Ede, the Netherlands. Ventory impressed the jury and participants with its smart and intuitive solution for inventory management across multiple locations.
In addition to Ventory, two other finalists competed for victory in the sixth edition of the European Supply Chain Start-up Contest: Fabrikatör from Germany and Permutable AI from the United Kingdom. The jury evaluated the finalists in an interview based on four criteria: commercial potential, technological innovation, usability, and clarity of their presentation.
Based on the jury interview and votes from the audience, Ventory emerged as the winner due to the easy applicability of its web application, successful implementation at logistics service provider DHL, and strategic collaboration with service provider Capgemini to offer the solution as a valuable addition to existing implementations, including SAP.
Ellen Malfliet, the company's operational manager (photo), was delighted by Ventory's win and thanked Supply Chain Media for organizing the competition and providing necessary attention to start-ups. The prize for Ventory includes a marketing campaign worth €20,000 through various media channels of Supply Chain Media.
Comprehensive selection process
During the inNOWvate Supply Chain Event, each of the three finalists delivered a 3-minute pitch on the main stage. An experienced jury interviewed the founders of the start-ups about their business model, solution, and team structure. The jury considered the audience votes for their final decision. The four-member jury consisted of Joost Bous (former supply chain director of Action), Mathias Bosse (Founding Partner of Prequel Ventures and Founder of Supply Chain Management Startups), Jean-Baptiste Clouard (CEO and founder of Flowlity, winner of this competition in 2021), and Martijn Lofvers (CEO & Chief Trendwatcher at Supply Chain Media).
RTI Blockchain chosen as the most promising supply chain scale-up
Alongside the start-up contest, three scale-ups also competed for the audience award during the inNOWvate Supply Chain Event. The Dutch scale-up RTI Blockchain received the majority of the audience votes for its innovative solution to fully automate the administration of pallets and other load carriers, as well as financial transactions. This scale-up surpassed the other two finalists: Garvis from Belgium with a planning solution integrated with ChatGPT, and Sweep from France with a comprehensive CO2 administration solution. RTI Blockchain won a media campaign worth €10,000, which will be deployed through the various media channels of Supply Chain Media.
Since 2018, Supply Chain Media has been researching and positioning young companies from across Europe in the Maturity Matrix of European supply chain start-ups, featuring ten different categories of supply chain solutions. The start-ups and scale-ups published in the Maturity Matrix are also eligible for the contests.