Map provides real-time visibility of border delays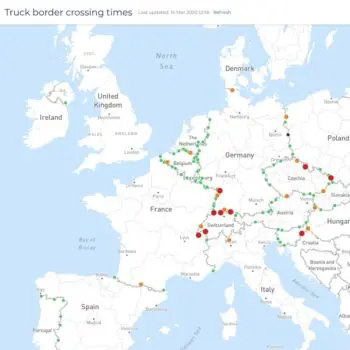 The ongoing spread of coronavirus is still having an impact on logistics. Governments are deciding to set up border patrols or even close their country's borders, and such measures have a direct effect on the movement of goods. Supply chain software vendor Sixfold has published a map providing real-time information about border crossing times for trucks in Europe.
Sixfold offers its customers – globally acting manufacturers, retailers, and logistics service providers – real-time and predictive visibility over their shipments. This helps them to understand where their shipments are, when they are arriving – either at their own facilities or with their customers – and, crucially, whether there are any problems or delays.
"Data from millions of shipments on our platform shows that, even though there are disruptions, the delays are actually not as bad as one might expect," states Sixfold. "Based on our data, on-time delivery overall only dropped by 3-7 percentage points in affected areas, depending on regions and industries."
According to Sixfold, real-time data and insights have enabled companies to take fact-based, quick and efficient decisions in regards to transporting their goods. This has enabled them to keep service levels up despite the unusual circumstances, says the software vendor.
Border delays in Europe
In view of the impact that Sixfold has had with helping its customers, the company has decided to extend the learnings in order to help a broader public. As a first step, it has published aggregated information on border crossing times for trucks, based on its real-time and predictive data. Everyone who has a practical use for the real-time map of all delays at European borders can access it for free.