Isabelle Conrot, Roche Pharma: "I want my legacy to be a lean and agile supply chain organization"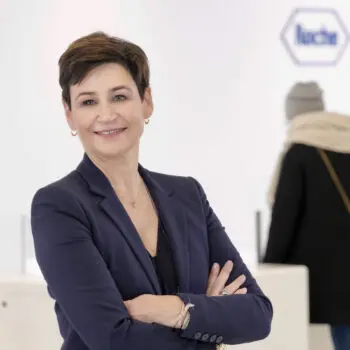 "The right doors opened for me at the right time," says Isabelle Conrot who has spent her entire career – 27 years – working for the Swiss healthcare company, Roche. Always curious to see where they led, she's enjoyed a varied and buoyant career, the last 4½ years as Head of Global Logistics & Supply Chain Operations for the Pharma division.
Her latest challenge was to lead and shape a lean and sustainable logistics and supply chain operations organization while adapting to the current and future needs of patients and making an impact for Roche. That was only possible with a change in mindset in her whole organization, a change that also helped them through the COVID pandemic. "I want my legacy to be a lean and agile supply chain organization that adds value and where people can perform at their best," she says.
A single mother of twin girls, now aged 23, she's very proud of them and what she's been able to achieve. "It's not always been easy combining my career with personal life but I never considered myself a victim. You take ownership of the situation and you decide yourself what you do with your life."
Roche is a world leader in biopharmaceuticals and cancer treatments and renowned for breaking boundaries in healthcare. Today, with more than 100,000 employees in over 100 countries, the 125-year old company continues to prevent, diagnose and treat diseases and make a sustainable contribution to society.  The supply chain is having to balance efficiency and sustainability with the aim to be more patient centric.
"I see the supply chain as the backbone of the business," says Dr. Isabelle Conrot. "We know that one size does not fit all and we are working on how to set up more segmented channels allowing us to be efficient while meeting all our patients' needs." … … …
Want to read more?
Curious about the full 6-page covering interview with Isabelle Conrot? Take a digital subscription and have full access to this interview and more exclusive content >> https://shop.supplychainmedia.eu/product/digital-subscription/