Supply Chain Movement 43 | Networks & Transportation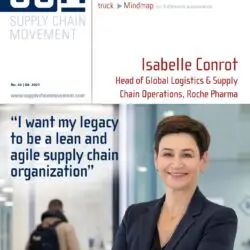 The main theme of the Q4, 2021 issue of quarterly Supply Chain Movement is Networks & Transportation. This issue appeared digitally on november 25 and has been received in hard-copy november 26.
12 | Profile Isabelle Conrot
"The right doors opened for me at the right time," says Isabelle Conrot who has spent her entire career – 27 years – working for the Swiss healthcare company, Roche. Always curious to see where they led, she's enjoyed a varied and buoyant career, the last 4½ years as Head of Global Logistics & Supply Chain Operations for the Pharma division. Her latest challenge was to lead and shape a lean and sustainable logistics and supply chain operations organization while adapting to the current and future needs of patients and making an impact for Roche. That was only possible with a change in mindset in her whole organization, a change that also helped them through the COVID pandemic. "I want my legacy to be a lean and agile supply chain organization that adds value and where people can perform at their best," she says. A single mother of twin girls, now aged 23, she's very proud of them and what she's been able to achieve. "It's not always been easy combining my career with personal life but I never considered myself a victim. You take ownership of the situation and you decide yourself what you do with your life."
20 | Management: E2E Visibility
With companies facing severe shortages of raw materials and parts, not to mention lengthy transport delays, the importance of supply chain visibility that extends beyond the tier-one suppliers is more evident than ever. The only thing really standing in the way of end-to-end visibility is the lack of trust between customers and suppliers.
30 | Management: Transport choices
Faced with sky-high tariffs, port closures and congestion at container terminals, many shippers decided to transport their goods from China by train instead of by boat. However, the New Silk Road infrastructure couldn't cope with the sudden influx of containers, resulting in weeks of delays. Some companies are now reverting to sea freight, even though the problems on the oceans are far from resolved. For others, road freight has suddenly become an attractive option.
42 | Top 28 Supply Chain Executives Europe
Today's supply chain executives are facing an extremely difficult agenda, with a high urgency to act. The ongoing turmoil in global supply chains, due to all kinds of shortages, is screaming out for more resilience. At the same time, companies are being forced to strengthen their commitment to truly sustainable supply chains. And to what extent is digitalization providing the necessary lubrication to keep the various cogs of business turning smoothly? As part of its annual research for the Top 28 Supply Chain Executives in Europe ranking, Supply Chain Media interviewed supply chain leaders on the list to learn more.
Further more in this issue:
Trend vision Fourkites
Checklist Purchase order tracking
Trend vision winddle
Checklist CO2 footprint
Mindmap Fulfilment Automation
Checklist Supply Chain Risk Management
Take a digital subscription now so you don't miss this issue!