Hesselberg improves spare parts availability near the Polar circle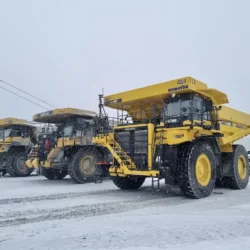 If you're based in northern Norway, how can you get faulty construction equipment and forklifts up and running again as quickly as possible? During a recent Webinar Wednesday, Thomas Bach-Nilsen from the Hesselberg Group explained how implementing Blue Ridge's supply chain planning software has enabled the company to significantly increase the availability of spare parts.
By Marcel te Lindert
Providing maintenance and service for construction equipment and forklifts is a challenge in Norway, especially in the elongated and sparsely populated region north of Trondheim. Service engineers from the Hesselberg Group sometimes have to travel 600km or more to reach a customer. "That means long drives. And it's even more difficult to provide a good service in winter," said Thomas Bach-Nilsen, Chief Information Officer at Hesselberg.
In Norway, Hesselberg supplies construction equipment and forklifts from brands such as Komatsu and Linde. In northern Sweden, the company also supplies mining machinery. "If a machine breaks down in an iron mine or a container truck has a technical issue at a port, the costs can quickly run into thousands of euros per hour. We have almost 150 service engineers in the field every day. The long distances and extreme weather conditions place high demands on the availability and distribution of the spare parts they need. If we don't fix the equipment quickly enough, we risk hefty fines," explained Bach-Nilsen.
Forecasting challenges
Last year, Hesselberg opened a new 5,000m2 central distribution hub holding stock of 6,500 different parts. The product range comprises a further 14,600 different parts that Hesselberg does not hold in stock. "It's not that the product range is extremely big, but the planning is complex. Without an advanced stock planning tool, inventory management requires a lot of man-hours – with the risk of making mistakes, which could lead to problems," said Sverre Rosmo, General Manager Nordics at Blue Ridge.
Blue Ridge is the vendor of the supply chain software that Hesselberg implemented last year. The company's existing planning system was more than ten years old and needed to be replaced. After an extensive selection process, Hesselberg chose Blue Ridge's software. "The forecasting challenges are what makes planning in the service industry so complex. There is a lot of diversity in spare parts. Demand differs depending on the region and the season, and there are lots of slow movers which are only sporadically in demand," continued Rosmo.
Scenario planning
Managing service levels is particularly difficult in the service industry. The Blue Ridge software first applied an ABC classification to Hesselberg's product range. "The software shows the consequences if the service levels for the A, B and C items suddenly drop. Customers can define six different scenarios in this context, and the software calculates the availability and how much stock is built up in each case. By running different scenarios, planners get a good sense of the risks. They can try out a scenario and the software then executes it automatically."
The decisive moment in Hesselberg's search for a new planning system came when Blue Ridge gave a demonstration. Rather than a PowerPoint presentation based on lots of assumptions, it was a live demonstration using a real dataset from Hesselberg. "We could see for ourselves what we could expect from the software. So don't base your choice on the vendors' presentations, but look under the bonnet instead," advised Bach-Nilsen.
Exceeded expectations
The implementation project started in December 2020 and was completed less than six months later. The transition took place in phases rather than with a 'big bang'. "Good project management is the most important thing. Every step was planned in detail. On a rare occasion, the consultation between the programmers from Blue Ridge and our own ERP system programmers led to lengthy discussions, but we quickly intervened and made decisions so we managed to stay on schedule," added Bach-Nilsen.
It's now six months since the system went live at Hesselberg and the first improvements are already apparent: service levels have risen from 85% to 97%, inventory levels have fallen by 25% and revenue from key components has increased by 35%. "These results have exceeded our expectations. In addition, supply chain planning productivity has improved. We now need fewer – albeit better qualified – planners," he said.
Price optimization tool
Hesselberg still has plenty of plans, such as to invest in even more training. Additionally, the scope of the planning software is being expanded so that the stock in all local depots and all 125 service vans can also be included for inventory planning purposes. Bach-Nilsen: "We use different parts in different regions. Gaining more insight into this will enable us to align the local stock levels more closely. We also want to use the tool for other products besides parts, such as our machines. And lastly, we're currently exploring how we could use the tool for price optimization."
Price optimization software can be very beneficial, especially nowadays when shortages and delays in international supply chains are leading to increased costs. Rosmo: "The question is, how much of those extra costs can be passed on to customers? Most companies don't have a clue, which makes it difficult for them to maintain their competitive position."