Frank Baur, Parker Hannifin: "Our supply chain is seen as more than just a cost contributor"
Frank Baur joined Parker Hannifin two years ago to lead its EMEA supply chain from its regional headquarters in Étoy, Switzerland. The company manufactures a wide range of products that facilitate motion within an industrial application, which, put simply, 'enable engineering breakthroughs that lead to a better tomorrow'. "I was attracted to its winning culture, passionate people, engaged leadership, and true focus on valuing customers," says Baur.
By Martijn Lofvers, Edwin Tuyn and Helen Armstrong
Running a decentralized, end-to-end supply chain with responsibility across six groups, 19 divisions and 27 countries, Frank Baur seeks competitive advantage through the core lean management principles of continuous improvement and creating value for customers.
Eight months after the start of the Covid-19 pandemic, the company remains strong. This, as Baur explains, is due to its customer centricity and engaged people, which comes from its philosophy of ownership, entrepreneurship and decision-making at the lowest possible level.
Parker Hannifin is a leader in motion and control technologies and has a long history of powering machines that changed the world. From brakes and fueling systems for aerospace to valves and sensors for climate control, power generation and healthcare, it touches all parts of our daily lives.
Founded in 1917 in Cleveland, USA, by entrepreneur Arthur Parker, Parker Hannifin has a deeply engrained culture of innovation and commitment. At the turn of the Millennium the global company introduced its successful Win Strategy, which was revised in 2015 and 2019 to focus on the customer experience, in order to improve productivity and profitability.
With sales of 13.7 billion dollars in fiscal year 2020, Parker has come through the Covid pandemic in good health and, with Frank Baur at the helm of the EMEA supply chain, improvements are set to continue. "Supply chain is driving the competitive advantage that enables Parker to be a top-performing company," he says.
How did you get to where you are today?
"I studied economics in Germany and, after graduating, went directly into supply chain management. I started in fast moving consumer goods and then joined a consultancy, Ingenics, before moving into industry to work for Robert Bosch. While there, I had the opportunity to move to Brazil to lead its Latin American supply chain and then to Chicago, where I had responsibility for its NAFTA supply chain.
Working for Ingenics was also an important step because I learnt to work with standard methods and had my first exposure to industry. The firm is strong in operations and process management, so it gave me a solid foundation for manufacturing. It also exposed me to the importance of talent management and this remains key in my current role. My time as a consultant also boosted my cultural awareness and inter-cultural competencies. It was the first time I worked on projects outside of Germany.
I joined Parker Hannifin two years ago. We are organized in six groups and I am responsible for the supply chains of 19 divisions, which are differentiated by product or customer. Each one of those 19 divisions has a supply chain organization with decentralized operations that puts them close to our customers and to our supplier base. This gives us a competitive advantage over larger-scale, centrally-led organizations. It is a truly holistic end-to-end set-up across all functions and, for me, the leadership challenge is to lead remotely." … … …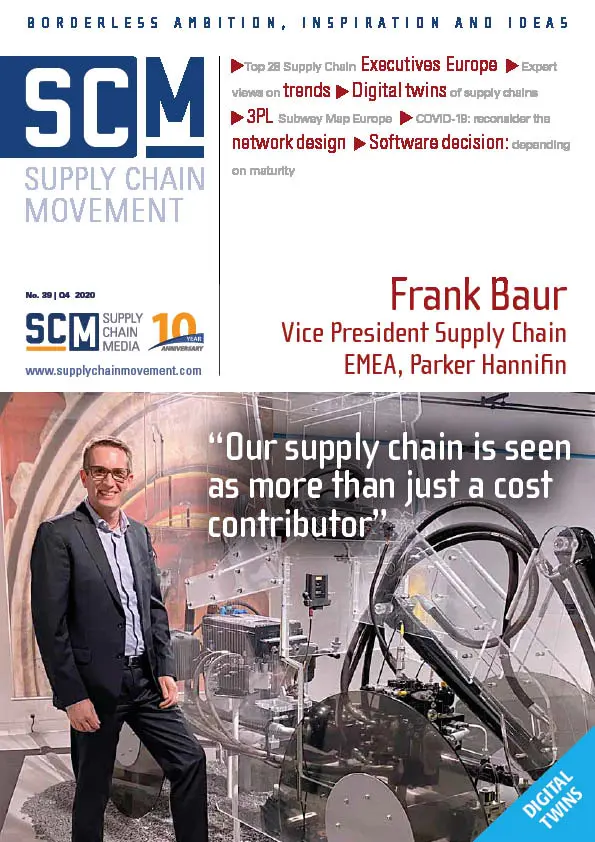 Want to read more?
This article was first published in Supply Chain Movement 39 | Q4 – 2020